Kid-Friendly Interior Design: You Don't Have to Sacrifice Style for Safety
Posted by Gabrielle Alyse on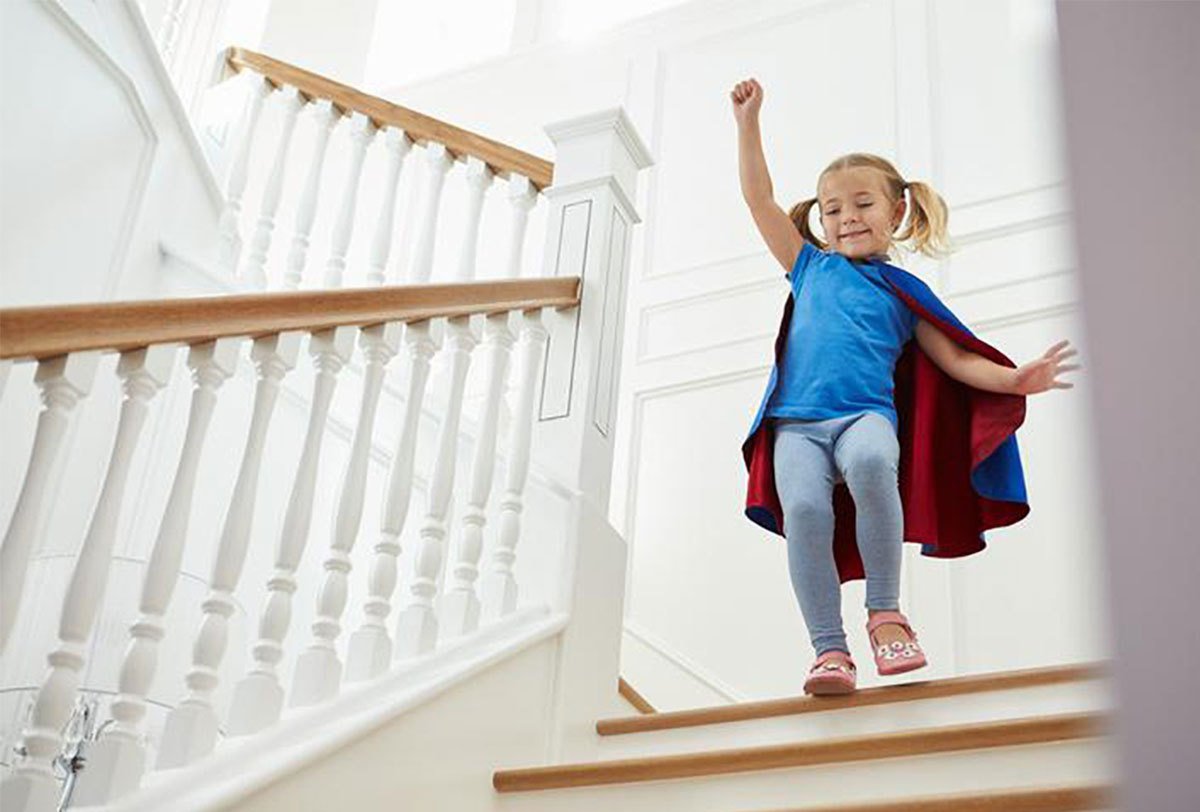 Gone are the days of the overly formal living room. The one you could not set foot in as a child, the living room reserved for special guests only, where, along with the spotless coffee table, your parents' heirloom pieces were on display but only touched weekly by a feather duster.
Today's trends in home décor focus on spaces that are kid friendly where we can actually live. Spaces where we can eat, play, rest, and spend time with family, free from the worry that we are one dropped ice cream cone away from catastrophe.
Furniture designers are using more stain-resistant and kid-proof fabric styles than ever before; professional organizers are incorporating the needs of modern families with functional and livable suggestions for decluttering; and architects and builders are designing and constructing homes with open and inviting spaces for mom, dad, and the young children to gather.
Flooring and rug choices are a critical component of interior design and growing families need reassurance that their choices are safe, first and foremost. But rest assured... safe choices can be quite stylish as well!
Rugs for Kids Rooms
The ideal rugs for kids' rooms will blend style and safety seamlessly. This is a great opportunity to add a touch of whimsy to your décor, as kids' rooms should be anything but boring!
Think outside the box when it comes to choosing colors, styles, and patterns. Long gone are the days when our nurseries were simply pink for girls and blue for boys. Interior design trends have incorporated a bright and bold world of color and design when it comes to baby and kid rooms as well as playrooms.
Striking combinations like yellow and gray or navy and kelly green, or fuschia and tangerine can really make a kids' space pop.
When it comes to choosing a rug, you will want to ensure that there is no possibility of slipping and falling. Kids' rugs and playroom rugs should either come with a built-in non-skid backing or should be placed over a non-skid runner. Little ones, who may be in the early stages of walking, need no additional obstacles beyond the ones already around them! Rugs for a nursery area especially should be allergy free and non-toxic (more on that to come).
A solid rug might be the appropriate choice for a kids' room or nursery area, especially if the room is already filled with pattern and design. However, don't be afraid to go a bit overboard in this space. Striped walls with a dotted rug can work perfectly in this kind of whimsical setting! A darker-colored solid rug might be your best bet in terms of camouflaging stain.
Aim to purchase a rug that is as stain-resistant as possible and also make a note of the manufacturer's instructions for cleaning and care.
Don't forget to rotate the rug as well! Rugs placed near windows with lots of sunlight can fade over time, and it's a good idea to turn them periodically.
Non-Toxic and Allergy-Free Rugs
All parents worry about potential environmental pollutants that could affect their children; allergy sufferers know just how important it is to make the home an allergy-free environment for a better quality of life. And parents certainly want their homes to be pleasant and inviting spaces for family and guests... and not find them sneezing during each visit!
Non-toxic and allergy-free rugs are great choices for families focused on safety (but not at the expense of style).
You might be surprised just how many troubling toxins can be found in rugs and carpets. Toxic dyes, adhesives that contain formaldehyde, pesticides, and fungicides can all be found in floor coverings. Parents who worry what their kids put in their mouths may be overlooking what they are crawling on each day!
Safer choices are available with a variety of rugs that are non-toxic as well as allergy-free.
Rugs CAN be made exclusively from safe material; it is possible they may cost more than less safe options. However, it is certainly worth it in the long run, bringing parents peace of mind!
If you are working with an interior designer on your kids' rooms or nursery areas, be sure to state upfront that you want to incorporate safe, non-toxic materials throughout these spaces.
Safer Stairs with Stair Treads
Any parent in a two-story home, or a home with even a few stairs leading to a garage or an outdoor space, remember the moment well: the first time they turned their heads for three seconds and turned back to see an infant making its way on to those steps!
While gates and railings are a popular option for many families who have crawling infants at home, there are additional steps you can take to make your stairs safer for the long term... for the days when a teenager who overslept might be rushing down the stairs to get to school, for example!
Stair treads are a hugely popular way to create extra traction and prevent falls, for family members of all ages! And again, because safety doesn't mean you have to sacrifice style, stair treads come in a wide variety of colors and patterns. This is another area where you might decide a touch of whimsy is in order!
The carpet treads used on stairs may also serve to protect the wood from scuffing and damage, in addition to reducing noise, if your kids tend to resemble a herd of buffaloes once they hit the stairway!
Stair treads are one of House Home & More's best-sellers: creating more traction on slippery wood stairs for kids and added cushion for their inevitable falls.