Gray Rugs Replace Beige, White as the Perfect Neutral
Posted by Gabrielle Alyse on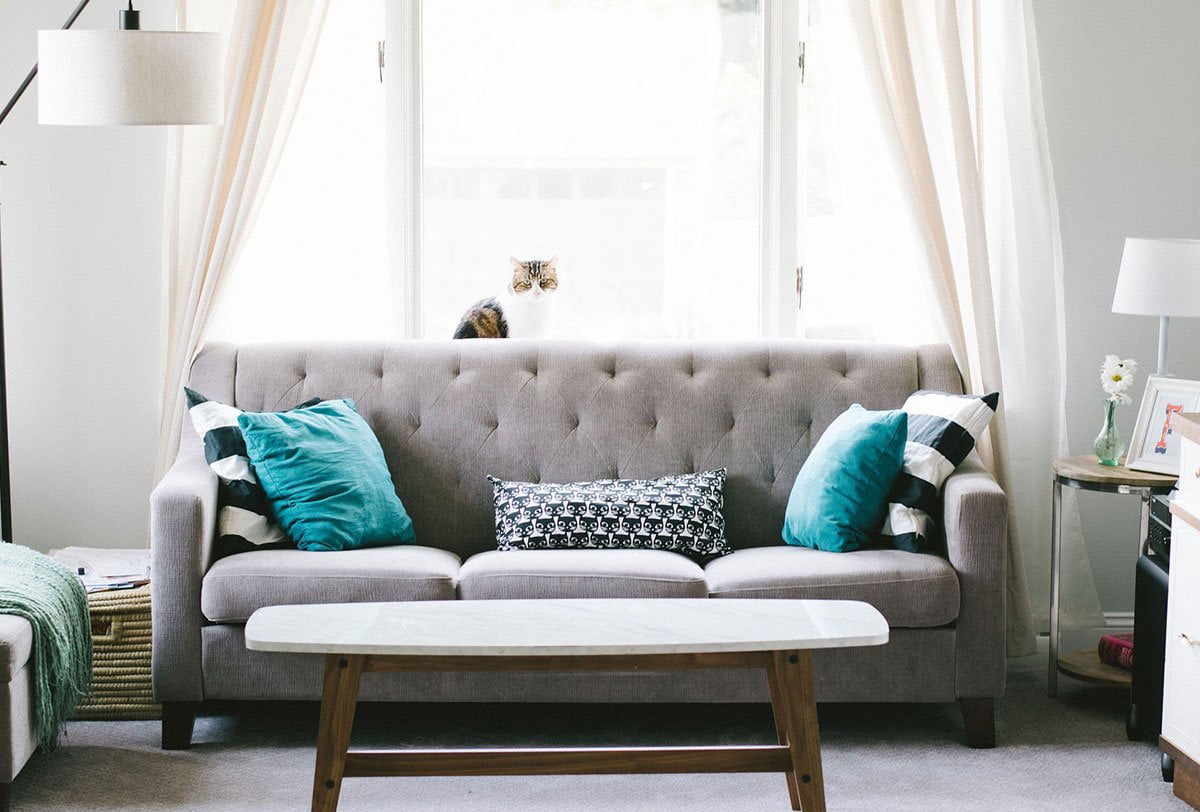 When it's time to retire the decades of beige, and you're tired of white, what color do you choose?
Gray Area Rugs for Timeless Interior Design
Gray area rugs provide an easy way to create a calming foundation for a room. We recommend using an 8 x 10 area rug to define the space.
The best part is because of the versatility, you can throw a variety of colors into a room, and the use of a gray area rug easily pulls them together. When making an investment into quality pieces for your home, not only do you need a product that will stand up to the wear and tear of daily use, you also need to think about the color that you choose. 
Pro tip: carpets don't just break up the floor space. They insulate sound, keep your feet cozy, and if you've got kids, there's protection if playing becomes a little too rowdy.
Gray: The Perfect Neutral
Many of us grew up with the usual neutral color staples; white, brown, and the many variations of shades from those two basic colors.
Brown can look elegant and sophisticated whether it's light or dark, but regardless which shade you choose, it still has an undeniably warm tone.
White is timeless, classic, yet it's also easy to grow tired of. Because of its versatility, it's been used pretty much everywhere in the home. Often, when you move in to a new space, the walls are either beige or white.
The times are changing, and fashion trends aren't the only ones that change from year to year. At long last, a new color has been awarded recognition for its effortless contribution to interior design.
Gray looks good in almost any shade, and despite being technically described as a cool color, it pairs well with most warm colors too.
Don't You Want to Try Something New?
White matches everything. It has a clean, sophisticated association.
What it often doesn't give, is a sense of relaxation.
White can sometimes come across as sterile, or too bright. In the absence of this, gray gives the same sense of sophistication, with the added bonus of relaxation.
Often assumed to be a mix of black and white, gray can actually be blended from a variety of colors, which is why it often reflects the tone of whatever colors you choose to decorate a room with. For example, gray cabinets can reflect a green-ish tint if you have decorated the surrounding areas with a healthy dose of green, whereas a room with a blue rug and gray walls will make the walls appear to be more gray-blue.
So if you're tired of the same old beige go-to, how do you start adding in a touch of the new, without having to immediately replace all of your old?
Easy Fix, Meet Gray Area Rugs
Area rugs are an easy and inexpensive way to bring warmth, and a sense of lived-in-ness to a room.
Added bonus, they can ground a color palette, pun absolutely intended.
Choose a solid color, and it can become the foundation for an eclectic mix of patterns and accent colors. Alternatively, a patterned area rug can bring a touch of design to an otherwise straightforward and simple interior design.
Regardless of your personal aesthetic, there is something for everyone.
So let's say your walls are beige and you're looking for a quick change. Because of gray's versatility,  it can be paired with both warm and cool colors, so beige walls aren't an impossible problem to solve. A pale gray area rug can add a new foundation for the room, especially if you find an 8 x 10 area rug to cover most of the floor space.
Your next step is to decide how else you want to go about pulling the colors together. 
What Do You Pair it With?
Blush pink has increased in popularity the past few years, and this evolution of gray becoming known as a "neutral" color is a testament to why.
Blush pairs well with beige; they both share warm base colors, and the pink tone complements both the beige, and gray.
Whether it's throw pillows, a new blanket, lamps, or art on your walls, there are a variety of ways to play with adding in gray and whatever accent color you choose.
Because gray and beige are both considered neutrals, there aren't many colors that are off limits for use as an accent in a room.The same applies to white.
Finding the Best Area Rugs for the Kitchen
Gray doesn't just come across as a relaxing color, the darker shades give a room a cozy feel. Brown can all too easily come across as dated if the color fades too quickly, and white is more often associated with crisp functionality than coziness.
Consider it the contemporary uplift for your floor.
Area rugs are a great way to refresh your kitchen.
A new base color can change the feel of the whole room, and the best area rugs for the kitchen keep your feet happy. Cushioning the hard floor for standing at the sink doing dishes, or keeping your toes warm when you're hunting for a midnight snack, both are equally worthy pursuits.
Because your home should be the space where you feel most at ease, it's important that the rugs you buy are comfortable on bare feet.
Customers love the balance found in our rugs that makes them soft to walk on, and thin enough for easy vacuuming. We make them with a low enough pile to ensure they can fit underneath doors without snagging.
Need an area rug that's small enough for a hard-to-fit space? We provide a variety of sizes for that very reason.
Added Bonus: "Dog-Proof" Functionality
Gray works well in any room of the house, and doesn't show dirt or pet hair as easily as a dark brown, or white rug would.
If you've been looking for a rug to protect your entryway floors, look no further. Our rugs aren't the fanciest you'll find available, but we guarantee they're highly functional.
HH&M rugs are made with a non-slip backing that makes them a perfect solution to the safety hazard of bunched up rugs slipping and sliding across the floor.
You want a rug that you know will last for years and years without fraying, tearing, or fading. We seek to provide the highest quality rugs available.
When cleaned, they still look like they were just recently purchased. But that doesn't mean put your rug in the washing machine or dryer. Did you know? 
Making the Switch to a New Neutral
Whatever room you're looking to change, gray area rugs offer a compelling solution.
If area rugs aren't your style, consider the ways you could pull more gray into your interior design. It can be exciting to try something different, especially since this color works as both an accent and a neutral foundation for a room.
We've made the case that gray 8 x 10 area rugs would be good for a living room, but you can also try that in a bedroom. When it comes to finding the best area rug for your kitchen, there are so many options.
You can go big or small, you can choose a gray area rug and set a new tone for your kitchen, or you can choose a different color and try out something like gray dishes instead.
The sky is the limit here!
Now comes the moment of truth; will you make the switch to a new neutral?
Or, will you stick with the neutrals you already have, and play with some new accent colors instead?