Best Kitchen Area Rugs: 5 Tips for Choosing the Perfect Kitchen Rug
Posted by Gabrielle Alyse on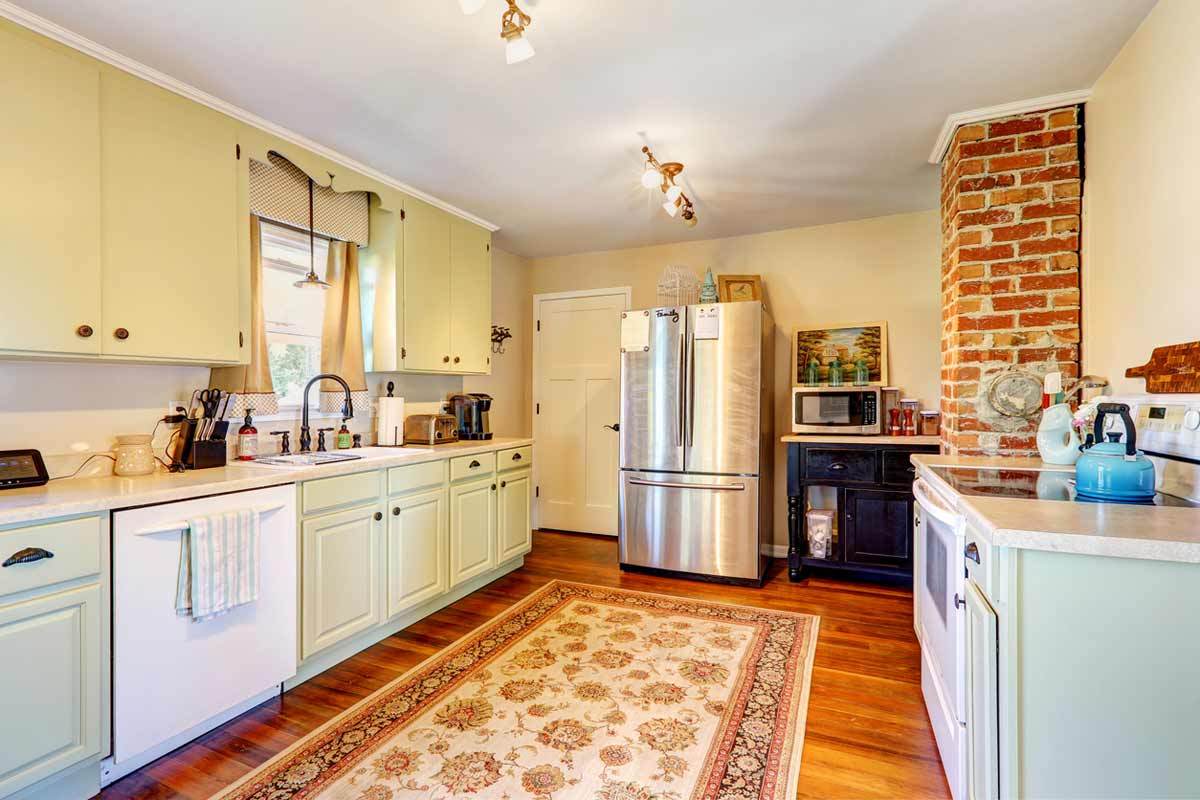 Picture this, you've just gotten up in the morning and you're getting ready to make that first pot of coffee. You climb out of your nice, comfy bed, make your way across the floor and into the kitchen, where you're greeted with cold linoleum. Doesn't sound like a great way to wake up, does it?
What if you stepped into your kitchen and you were greeted with a nice, comfortable, soft rug while you stand at the kitchen sink?
That sounds a whole lot better, right? Well, the best kitchen rugs can make a whole lot of difference in your space.
Why You Want a Kitchen Rug
So, why do you actually want that rug? Well, there are actually several reasons why you should absolutely jump in.
Rugs come in all different styles, colors, and other options, which means they're going to make a huge difference for your kitchen (or anywhere else you might choose to put them) but let's take a closer look.
Warm Up the Space
There's no doubt about it, hard surface floors can get cold. They feel cold in the mornings or when the weather turns cool or even in the middle of summer they can feel pretty cool.
Sometimes that's a good thing (like in the middle of the summer when you really want to cool down), but a lot of the time it's not that great.
With a kitchen area rug, you don't have to worry about how cold it gets because you have a nice, warm space where you can stand while you're going about any chores you might have in the kitchen (or just finding yourself a snack)
Add Some Décor
Easy to clean kitchen area rugs can be a super fun addition for adding style to the space as well. Whether you're looking for something with a fun pattern, or want to highlight the main colors in the room, there are many great rug ideas and it's going to really dress things up.
You'll add some great visual appeal to the room and you'll be able to enjoy it a little more.
Protect the Floors
If you have hardwood floors or tile floors, you know how easily they can be damaged. Even linoleum and other inexpensive floors can get dented, scratched, or broken fairly easily. None of these make your kitchen look great, but replacing the floors entirely is expensive.
A rug can actually protect the floor from this type of damage and make sure that you're going to have great looking floors for a whole lot longer. Place them under the kitchen table, next to the kitchen sink... the choice is yours.
No more worrying about your pets scratching the floor when they run through (or your kids when they drive their toy cars across).
Cut Down on Noise
You don't want everyone in the house to know when you get up for a glass of water, right? Well, with hard surface floors most people can tell that you're up and moving.
If you have a kitchen area rug, however, they likely won't be able to tell. The rug will help to muffle the sound of your steps.
That's great if you don't want to wake up the whole house (especially the fussy baby who finally went down for a nap) just because you want to get the dishes done or grab something out of the fridge.
Trap Dirt and Debris
Cleaning hard surface floors seems like it should be easy, but it's so much more difficult than we expect.
With carpet or rugs, you're actually trapping any kind of dirt right where it is, keeping it from getting tracked through the rest of the house. Then, you vacuum or clean your carpets and you'll be ready to go.
There's no more sweeping, then scrubbing, then still trying to pick up all those little pieces that aren't just on your kitchen floor, but all through the rest of the area too.
Area Rug vs. Runner
Okay, so you know why you're going to want a rug, but what type of rug are you actually going to want? The two main types of the best kitchen rugs are the area rug and the runner.
With an area rug, you generally have a square, rectangular or circular piece that you can put in any area of the room.
It might be any size at all - because you can get a rug as small as 2'x 3' that will fit right in front of your sink, or as large as... well, it's almost limitless because there are so many options. But for a standard rectangle, on the large end at House Home & More, you'll find an 8'x12' rug.
That means you can either put something small in one or more places in the kitchen or even get a rug that fills the entire space. These are easy to move and generally work best in single areas where you stand for extended periods.
When it comes to a runner, however, you're actually creating a path that gets you from one area to another. Maybe you want a runner that gets you through the kitchen because it's a high traffic area (like if your kitchen is between the living room and the bathroom).
Maybe you want a runner that gets you from the stove to the sink if this is a frequently used area. These runners can also come in just about any size, but they're generally long and narrow, so you have only a single path to get from one place to the next, without the rug covering excess areas of the floor.
If you tend to walk back and forth across the kitchen frequently a runner can be a good idea. If you tend to spend more time standing in one spot or another then maybe an area rug or even a couple of area rugs will be the better way to go.
Choosing Your Rug
If you're looking for a kitchen rug, whether you want an area rug or a runner, you're actually in the right place. Because they're right here, ready and waiting for you.
Of course, you might want to take a look at a few tips to choose the perfect one before you jump right in.
What Size Do You Need?
The first thing to do is take a look at your kitchen and maybe even measure it. Look at the floor space or footprint you get.
If your kitchen is designed like most, it probably has cabinets and appliances all the way around the outside walls, possibly one or two or even three walls. Measure the floor space starting from in front of those appliances and cabinets, so you know how much of actually walking space you have.
Your rug needs to fit somewhere within that space. But you also want to think about where you actually need it. Do you want it in front of the sink? Great. Does it need to be larger than the area directly in front of the sink? If you also want a rug in front of the stove does it need to be one rug, or would two smaller rugs look better?
What Shape Do You Need?
Now that you know the size you're looking for it's time to take a closer look at the actual shape. Some people prefer a square or rectangular rug because it's more standard.
They also tend to fit more easily in different places. But that doesn't mean you need to stay with it.
A circular rug can be fun, and so can odd or random shapes that you find in some specialty stores. These can really make the space look a little more unique for your specific tastes. The key is to look at where you want the rug to go and then think about the shapes that might work there.
If you're putting it in a corner you probably want a square or rectangular kitchen rug, but if it's going in the middle of the floor something more unique might be fun.
Consider the Color
What color should you get for a rug? The best thing to do is look at the colors you already have in the space. You want the rug to match or complement the colors on your walls, your cabinets, and your windows.
That may mean that you want a rug that is one single color to pull out some accents from a more busy design. Maybe you want a vibrant rug that will actually dress up some of the current plain colors in the space. The color is going to make a difference in how you feel about the space.
If you like something a little simpler then maybe a solid black or gray rug is the best way to go. If you want vibrant and bold blues and reds can be a great way to add some color. Of course, if you want patterns, you'll want to look for something really fun that fits your personal style.
At House Home & More, we don't offer patterned rugs just yet, but we do have elegant and high-quality area rugs in beautiful colors. Want to see what it will look like in your home? Pick out some swatches, and find the perfect color.
How to Take Care of It
Some rugs are super simple to care for. All you do is spot clean them and they're as good as new. Some rugs take a lot more work or aren't able to stand up to the heavy foot traffic you might have in your space.
Understanding the materials that your rug is made of and how it will do in the space and with the type of wear you're going to put on it is important. Sometimes an indoor/outdoor rug can be a great idea for an indoor space because they're easy to clean and they stand up to the wear of everyday life.
If you don't want an outdoor rug, you still want something that tells you how to clean it, with a process easy enough that you'll actually be inclined to do it, rather than just get a new rug.
How It Protects
A rug is one more surface on top of a hard surface, which means that they are generally prone to slipping and sliding.
You definitely don't want anyone slipping on your kitchen area rug, or it sliding out from under them. That means being really careful about how it's going to sit on the floor and whether it has a non-slip backing that will keep people safe when they walk on it.
Good news! Indoor area rugs and carpet runners from House Home & More have a skid-resistant backing that our customers love.
Pricing Points
You want to make sure you have a high-quality rug for your space but that doesn't mean you want to spend a whole lot of money, right? Well, you're in luck, because you don't need to spend a fortune in order to get some great quality.
The best thing you can do is take a look at House Home & More to find the ideal area rugs and runners that you want for your space. You'll find competitive prices and a whole lot of great kitchen rug ideas that will keep your budget in mind.
That means you get the best of both worlds.
All you have to do is go through the tips and ideas we listed above and you'll be able to pick out a kitchen rug that fits your budget and your style needs. Whether you're looking for something for a small kitchen area or large kitchen area rugs, there are definitely plenty available.
Plus, you don't have to pay for shipping. That means you get the best kitchen rugs for the price that's listed, without having to worry about added costs.
Conclusion
It's definitely time for you to start looking at the options and see what you can get. An area rug or runner in your kitchen is going to warm up the space and really help you feel safer and more comfortable. All you need to do is give House Home & More a chance and you'll see why you want rugs for every room in your home (or at least, if you do, you'll see why you want to buy from us).
A rug that's safe for your children and pets, doesn't slide when you walk on it and doesn't bunch up when you need it isn't always as easy to find as you might think.
However, you're going to have all of that and loads of other great kitchen rug ideas here.