Transform Your Deck Into an Oasis: Top 5 Outdoor Rugs for Decks
Posted by Savannah Phillips on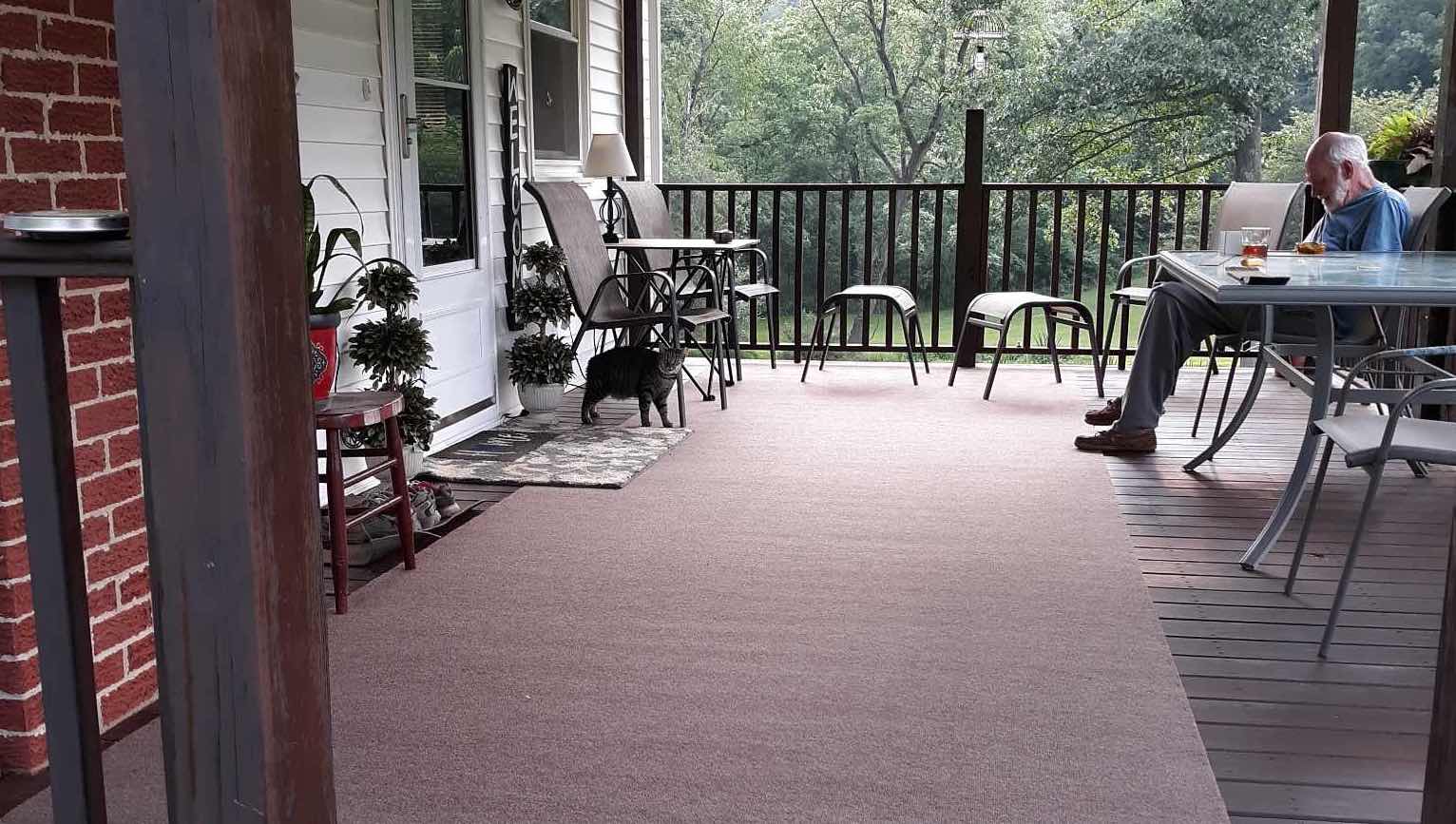 A rug can be the difference between a backyard oasis and a backyard bore, and there are a myriad of reasons why outdoor rugs for decks are the perfect way to add that finishing touch. For starters, they help extend the living space, making your deck, and by extension, your home feel bigger while providing you with more functional space. They also give an outdoor space a more indoor feeling, with a livable context. This pulls the users out of the house and into the outdoor space naturally.
From a maintenance perspective, using outdoor rugs can all but eliminate the need to constantly paint or stain your wooden deck. With the right outdoor area rug, you don't have to follow a strict upkeep schedule or worry about painting or staining it regularly. The upkeep of an outdoor rug is quite a bit easier. In most cases you can just shake the rug out, sweep it occasionally, or even rinse it off with a garden hose to keep it clean. It is good to be aware of any UV protection your rug may offer as well - without it, certain placement could cause an uneven fade if the deck is not completely covered or gets a great deal of direct sunlight. 
In addition to deck protection, you also won't have to worry about pesky splinters if you want to walk around with bare feet. This can be a great way to promote using both the indoor and outdoor space since you will not need to take your shoes on and off every time you cross the threshold.
For those who have pets, outdoor rugs are perfect. They are designed to withstand traffic and rough conditions and offer your pup a comfy place to lounge while everyone gathers outside. 
The Best Outdoor Rugs for Your Deck
Here's a list of some of the best outdoor rugs for outdoor living spaces, such as decks, porches, and patios.
1. Best Overall: Indoor Outdoor Double Ribbed Carpet Area Rug
This indoor outdoor double ribbed carpet area rug comes in a variety of sizes and a couple of color options, so you are sure to find the best fit for your outdoor space. It is skid resistant and made of all-weather polypropylene carpet. It is UV-protected and mold and mildew resistant, making it the perfect addition to your outdoor living space. 
The premium skid-resistant rubber backing is perfect if you want to use the rug on your deck, patio, marine dock, or even pool area. The backing prevents the rug from slipping, ensuring you have a safe place to walk. The rug's surface is also double-ribbed for more traction, and the ribbed grooves trap dirt and debris that often sticks to shoes and paws. This way, you aren't tracking any of it inside the house. 
Since this outdoor area rug is bound on the sides, it won't fray. It is also easy to clean. Simply shake it out, sweep it, or use a leaf blower.
Pros:
Skid-resistant
UV protected
Mold and mildew resistant
Easy to clean
Cons:
Limited color availability
2. Best Coverage: Outdoor Turf Rug Black
A turf rug like this black outdoor turf rug is a fine addition to any deck or outdoor living space. It gives the space better coverage, given that it mostly comes in larger size options. So, if you are looking for something to maximize deck protection, you can't go wrong with a turf rug.
It is constructed from artificial turf, making it ideal for outdoor use. It also features a lightweight marine backing to protect the rug fibers, and hemmed edges to prevent it from fraying and ensuring its longevity. 
To increase protection from outdoor elements, this rug is UV-protected and will not fade or become damaged regardless of the different weather conditions to which it may be exposed.
This black outdoor turf rug also comes with free rug stakes that you can use on the reinforced and grommeted rug corners to keep the rug in place. While it may be a bit higher in price than other options, you get what you pay for when it comes to longevity. 
Pros:
Multi-purpose outdoor use
Lightweight
Easy to clean
Hemmed edges
Cons:
A bit more expensive compared to regular rugs
3. Best Earth Color: Indoor Outdoor Double-Ribbed Carpet Area Rug (Bittersweet Brown)
Do you want a reliable earthy outdoor patio rug that blends with your outdoor environment? Look no further because this indoor outdoor area rug is what you need.
It has a bittersweet brown color that is perfect if you want to be one with nature. It evokes a warm feeling and brings you closer to the natural calmness that this earth tone brings. Moreover, it comes in various sizes. So you can have the best fit no matter how big or small your deck area is.
It also features several amazing traits that every outdoor rug needs, such as being UV-protected to ensure its color won't easily fade even under the sun's harsh glare. The rug is further equipped with mold and mildew-resistant properties, making it also moisture-resistant.
Its premium skid-resistant rubber backing and double-ribbed surface prevent falls and injuries. You can rest easy knowing your walking environment is safer, especially when you have pets and kids running around.
Pros:
Indoor and outdoor use
Wide selection of sizes
Skid-resistant
Excellent traction
Traps dirt, mud, and other debris
Cleans easily
Cons:
4. Best For Customization: Outdoor Carpet
It is time to turn your backyard area into the oasis you have always dreamed of. To do this, try adding a bit of color to the deck area. One of our top choices for improving a deck's aesthetic is this Standard Outdoor Carpet.
This material is available in a variety of colors, allowing you to make your deck or patio a true extension of your home décor. Green can assist in making people feel rested and secure, making your deck a good place to relax. Blue is available to help in creating an open space for imagination and inspiration. Red can be utilized for an attention-stealing addition that is sure to draw the eye of every guest at your next backyard barbecue. Better yet? There are even more colors available!
On top of everything else, this outdoor carpet option is truly customizable. Not all backyards are created the same, and therefore specialty dimensions and shapes can be a real hurdle to overcome when planning out your backyard sanctuary. Luckily, the material can be placed side-by-side for a seamless effect when covering larger backyard spaces. This outdoor carpet also features unbound edges that will not unravel or fray - allowing for cutting and shaping with nothing more than a good pair of kitchen scissors. Best of all, there is no need to seal or finish the edges once altered. Simply cut, place, and enjoy.
This durable yet lightweight outdoor carpet is even UV-protected and weather and fade-resistant.
Pros:
Raw edges for easy customization
Easy installation
Marine backing
UV-protected
Many sizes available
Perfect for improving aesthetics
Variety of colors available
Cons:
May become expensive depending on the size
5. Best Traction: Skid-Resistant Heavy-Duty Door Mat
Skid-resistant mats and rugs are typically best for outdoor use since they maximize protection against falls. This skid-resistant door mat is a good addition to your patio and deck, especially right in front of the door, where traffic can be the heaviest.
A doormat prevents dirt and mud from getting into your house while protecting the covered area from moisture and harsh outdoor elements.
The doormat features olefin fiber construction. Olefin fibers are mainly used for utility fabrics, ropes and twines. Hence, you can guarantee that the mat is as sturdy as them. It is also UV-protected, which makes it resistant to sun damage and fading. On top of that, it has mildew-resistant properties so that it won't grow mold and mildew that may host bacteria and create an awful smell.
Aside from its skid-resistant rubber backing, the front side has a thick ribbed texture that helps improve traction. This is helpful for children and pets who normally just bolt outside the door. This is also helpful for older people who need more traction and stability when walking. 
Pros:
Protects your home from dirt, mud, and other debris
Improves traction
Prevents falls and injuries
UV-protected
Mildew-resistant
Bound edges
Skid-resistant
Available in several sizes
Affordable
Cons:
Does not cover as wide an area as the larger rugs we reviewed
What to Look for When Buying Outdoor Rugs for Decks
Here are a few important factors to remember when buying the best outdoor rug for your deck.
Material
Because outdoor rugs will go through more strenuous use than indoor ones, they must be made of high-quality and durable materials. Synthetic materials such as polypropylene, polyester, and olefin work perfectly. They are waterproof, easy to clean, and able to withstand the elements better than natural fibers.
Size
Outdoor rugs come in different sizes and shapes that fit a variety of outdoor spaces. The size of the rug you choose will mostly depend on your personal taste, but it's advisable to consider a few things. 
Most importantly, if you have outdoor furniture, you should strive to have at least two legs of each piece of furniture touching the rug for symmetry and to keep the edges from curling. This is also important in settings where the wind could catch the rug. 
Care
Outdoor rugs need to be easy to clean and dry. Rugs made out of synthetic materials such as polyester or polypropylene offer exactly that and much more when it comes to ease of care.
If you abide by these principles, finding the right outdoor deck rugs is fairly easy. It often really comes down to the patterns and designs you want. The options laid out above should cover all the necessary concerns. 
Your Vision
Finally, what is your vision for your outdoor space? Creating your outdoor space is just like designing your indoor spaces. Consider the use of the space and narrow down your choices to what will make you and your guests feel comfortable and at home. 
FAQ
Can outdoor rugs be left outside all the time?
Yes, but it depends on the material. Most outdoor rugs are made of synthetic materials such as polyester and polypropylene, making them waterproof and durable. The mold and mildew-resistant properties also mean your rug will stay in good condition, even when left outside all the time.
If an outdoor rug becomes soaked and it does not seem to be drying quickly you may want to hang it over a railing. If you get winter weather, you may consider putting it away when not in use. Though not necessary, it can make cleaning easier! 
Why do I need an outdoor rug?
Give yourself and your pets a soft landing when walking barefoot on your deck. The best outdoor rug also ties the patio furniture together nicely and cuts down on the amount of time you spend staining or painting your deck. 
Do outdoor rugs smell?
If they aren't washed or cleaned regularly, they can grow mold and start to develop a smell. A wet rug is the perfect breeding ground for mold and mildew. When you start seeing brown, green, and black spots within the fibers and notice a pungent and musty smell, there may be mold and mildew. It is important to find a rug resistant to this and follow a regular cleaning schedule to keep it in tip-top shape. 
Savannah Phillips is an NCIDQ certified Interior Designer with a Bachelor of Science in Interior Design from Illinois State University. She is skilled in Space Planning, Furniture Layouts, Material and Finish Selection, and FF&E Procurement.