Bring a Cozy Sophistication into Your Home with Japandi Interior Design
Posted by Patricia Colomy on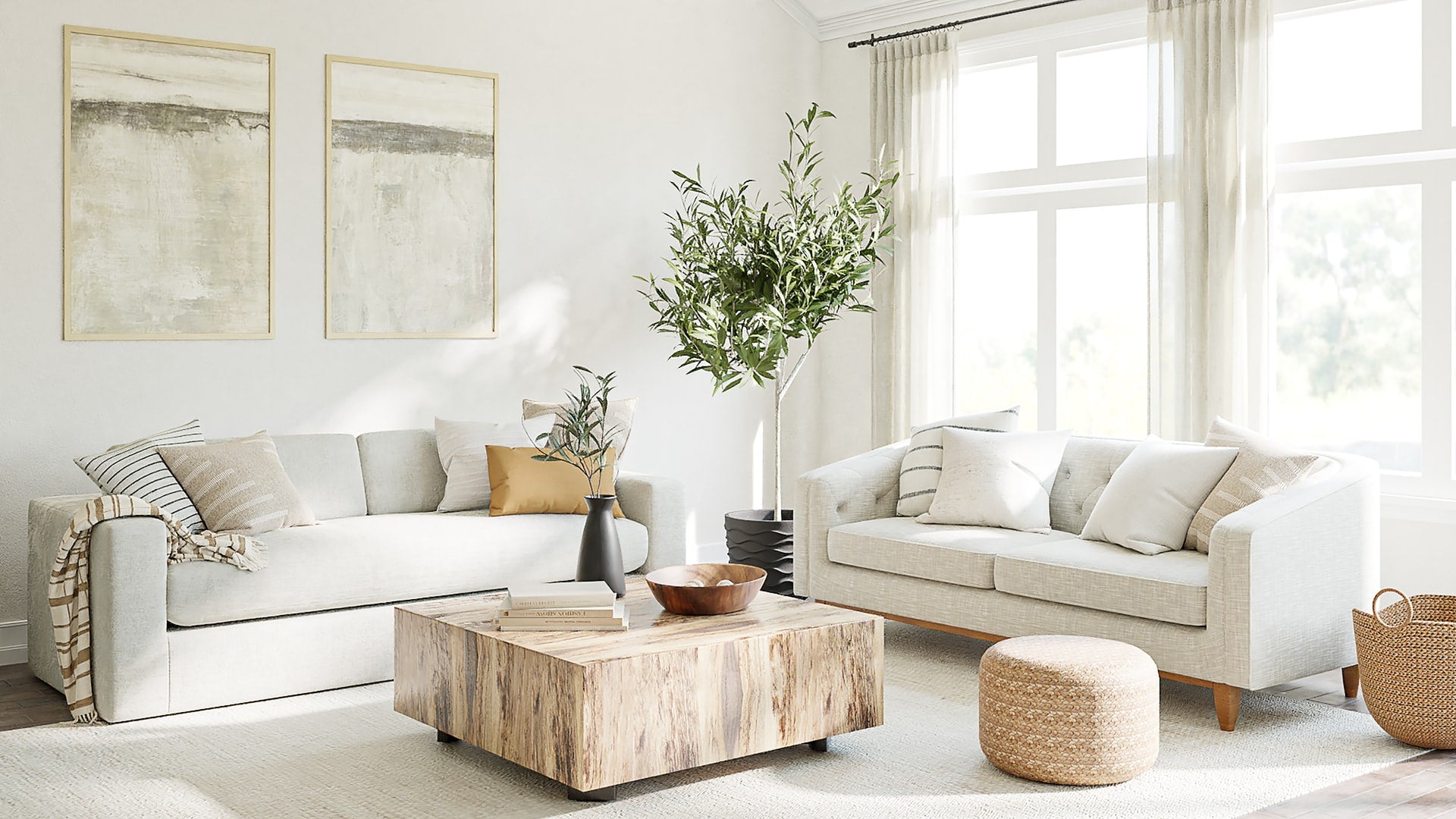 If you're one of the many people who had plenty of time to focus on home improvement projects, learning new crafts, and giving your home a fresh look over the last year and a half, chances are you've heard of Japandi.
This new buzzworthy interior design style has been a hot topic, as we've all been spending more time at home and are continuously looking for new ways to create a cozy place that supports functionality.
If that sounds like something you also strive for, Japandi might just bring the perfect balance to your home! I'm going to help you discover the details of this diverse design trend so that you can understand the elements of Japandi style decor and how to incorporate them flawlessly into your home.
What is the Japandi design style?
This newcomer design trend bears a quirky name that's right on the nose. As a blend of traditional Japanese style and Scandinavian design, Japandi focuses on simplistic, natural elements and never sacrifices comfort.
It's based on two minimalist design principles from its parent styles:
The Japanese principle of Wabi-Sabi – expresses the philosophy of appreciating the beauty in natural imperfections
The Danish concept of hygge (pronounced "hue-guh") – expresses a feeling of cozy warmth, usually with ambient lighting
When you merge these two values together, you get the unique blend of sophistication and relaxation that makes up Japandi style decor.
With the core of its design elements grounded in an airy feeling space and a neutral color palette, Japandi incorporates natural materials – like bamboo, rattan, and stone. Because it also focuses highly on the ideas of craftsmanship and sustainability, it's a popular eco-friendly style of interior design.
Since both Japanese and Scandinavian styles take a minimalistic approach, you may be wondering - what's the difference between Japandi and minimalist decor? Or Japandi and Scandinavian, for that matter.
While the three design styles certainly have their similarities, they also vary in ways that can make them quite different from one another.
Minimalist Decor vs. Japandi
Perhaps the best part of Japandi decor is it gives us a name for those of us who love the idea of furnishing our home in a minimalist way, but can't bring ourselves to say goodbye to those precious few items that don't quite fit into the "zen and sleek" aesthetic.
What they have in common:
Both of these styles embrace simplicity and neutral color palettes. They also both flourish in spaces illuminated by plenty of soft, natural light.
An emphasis on functionality is deeply rooted in the purpose of both design forms, expressing a love for fine craftsmanship and clean lines in an uncluttered environment. After all, when less is more, having quality pieces that speak for themselves makes all the difference.
Where they differ:
The biggest difference between these two styles is a sleek perfect look as compared to a thoughtfully imperfect one. A truly minimalist design doesn't offer room for irregularities, whereas Japandi influenced spaces proudly display the beauty of imperfections, as found in nature.
Both focus on functionality, but Japandi decor embraces curated embellishments. This is where the hygge decor ideas come in.
The minimalist design purist typically sticks to pieces that have been chosen strictly based on their necessity, with the idea that everything has a place and purpose. It's very zen, but those homes can also feel cold and unwelcoming sometimes.
When it comes to materials, Japandi takes its cue from nature, using sustainable elements like bamboo and stone, while minimalist leans on more polished materials like glass and steel.
 Here's a quick reference table to help you!
| | | |
| --- | --- | --- |
| Decor Elements | Japandi | Minimalist |
| Focus on simplicity | X | X |
| Emphasis on functionality | X | X |
| Clutter-free | X | X |
| Neutral color palette | X | X |
| Soft, natural light | X | X |
| Clean lines | X | X |
| Focus on craftsmanship | X | X |
| Natural wood tones | X | X |
| Potted plants | X | X |
| Embellishments & ornamentation | X |   |
| Sticks to essential pieces |   | X |
| Materials that offer a natural/imperfect look | X |   |
| Materials that offer a polished look |   | X |
Japandi vs. Scandinavian Decor
This is where the cozy hygge style comes in, as Scandinavian interior design is one-half of the Japandi style. The few details where they differ are subtle, but sometimes a color palette or a desire for the farmhouse look becomes the deal breaker.
What they have in common:
Both the Japandi and Scandinavian decor selections focus on functionality and clean lines, and each style values incorporating elements of nature.
Keeping things cozy is another similarity, as the concept of hygge plays a predominant role in each style. Pair that with attention to sustainability, and you have a mix of materials that are inviting and warm, without feeling overly cluttered or wasteful.
Both methods of decorating your home also like to live in simplicity and can be easily incorporated into small spaces.
Where they differ:
The most obvious contrast is in their respective color palettes. As we've mentioned, Japandi design uses muted and neutral tones in an earthy color palette, but Scandinavian decor incorporates pops of pastel colors to help brighten up spaces.
The Scandinavian style can also have a far more casual feel than Japandi which places emphasis on craftsmanship. Scandinavian will often feature unfinished woods that may seem more farmhouse, while Japandi homes will prioritize pieces with a hand-hewn look.
Here's a quick reference table to help you!
| | | |
| --- | --- | --- |
| Decor Elements | Japandi | Scandanavian |
| Focus on simplicity | X | X |
| Emphasis on functionality | X | X |
| Clean lines | X | X |
| Bring in nature | X | X |
| Well suited for small spaces | X | X |
| Places value on sustainability | X | X |
| Keeps it cozy | X | X |
| Neutral color palette | X |   |
| Uses pops of pastel colors |   | X |
| Elegant craftsmanship | X |   |
| Rustic craftsmanship |   | X |
| Has a more casual feel |   | X |
How to decorate in Japandi style
When you decide to bring Japandi into your home, you are choosing to prioritize a feeling of tranquility and warmth. The main things to focus on are these: warm, cozy textures; earthy tones like browns, unpainted wood, or pale greens you might find in your plants; and choosing quality over quantity.
Here are a few tips to get you started.
Curate carefully
When you choose pieces for your space, be sure to select those that emanate elegant simplicity and functionality, with little to no embellishments on them. Incorporate items that are made from natural materials (bamboo, wood, and stone), and spotlight craftsmanship. Aim for pieces that will stand the test of time and adapt beautifully with future design choices.
Keep it clutter-free
Reducing clutter is a must within this style, as you want to showcase clean lines and spaciousness. The Japanese elements of this are meant to help bring a feeling of zen serenity to your home. Using items like stylish baskets or boxes and folding screens can help organize a busy home and give it a calmer, refined appearance. 
Create a warm palette
When it comes to colors, you want to compliment the soft, natural lighting of Japandi. This means neutral but rich colors. Start with beige or warm white walls, and continue to keep your palette warm and earthy by using restrained contrast with tones like beige, terracotta, cream, chocolate brown, and charcoal.
For your accent notes, bring in the Scandi pastels we love with soft greens and yellows, pale blues, and muted pinks. If you love black and want to incorporate it into your Japandi color palette, use it as an accent note.
Cozy and Comfy is key
The overall goal here is to capture the coziness of hygge with warm textures while maintaining the elegance of Japanese design. Incorporating low-profile furniture will help create a serene feeling of being close to the earth, and adding pillows and throws will create a softness that you and your guests will want to fall into.
If you have hard floors, be sure to use accent rugs or runners for added comfort and warmth. You'll find that House Home & More has a variety of cozy area rugs and runners available in warm neutrals and earthy colors to help you get started.
The popularity of Japandi
Sometimes when two design styles are merged together, they accentuate each other's differences and it's difficult to create symmetry.
In this case, the Japanese and Scandinavian interior design styles work together beautifully as complements of one another and create the balance that's found in Japandi. When you merge these two together, you get a wonderful combination of sophistication and coziness.
While both of these styles have been on the design scene for a while, the mixture of the two is a refreshing, well-balanced design trend that is expected to continue rising in popularity.