Indoor Halloween Decorating Ideas for Every Budget
Posted by Patricia Colomy on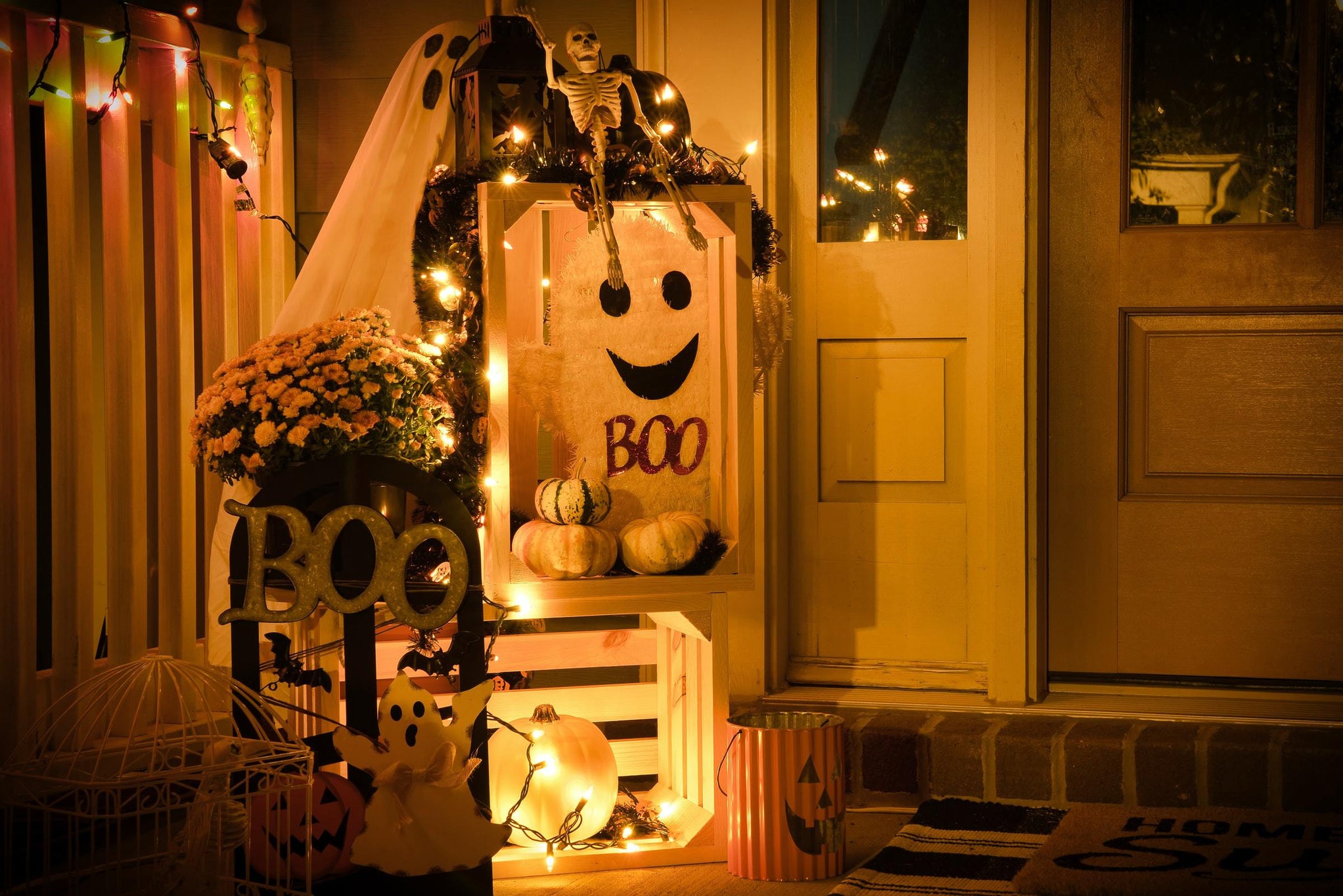 Decorating your home for a fabulous Halloween party can be overwhelming and pricey. It can be so much so, instead of being excited, you're ready to hibernate through the holiday and wake up just in time to ransack the discount candy aisle on November 1.
Even if you're cutting it close and All Hallow's Eve is just around the corner, don't hit the Halloween snooze button just yet!
We've embraced the spirit of Ghosts, Ghouls & More with some creative ideas to haunt your happy home and give your party the oogie boogie it needs to get your guests in the Halloween spirit.
How to Decorate Your Kitchen for Halloween
The kitchen tends to be a gathering ground for partygoers, and it's likely because that's where the food and drinks are. Be sure to give your guests a creepy kitchen setting to keep them spellbound this year.
Whether you place these decorations around your kitchen cabinets, or across your windows, there are easy ways to decorate without taking over all your counter space.
Here are some simple and inexpensive options you can purchase or DIY for Halloween:
Tattered tablecloths –
 How you set the table in your kitchen can set the tone for your entire party. Give your guests an eerily embellished display they'll keep coming back to.
You can purchase a creepy cloth or make a run to the fabric section of your favorite craft store and shred your own. Layering black and white tattered lace will give your dining table a vintage haunting appeal.
Spooky spider webs –
Whether you stretch out a few bags of cotton webs with plastic spiders around the nooks and crannies of your kitchen or cut your own paper webs to adorn your walls, you can never go wrong with this Halloween must-have. Sometimes, you can find a spider web material that has a sticky feeling, so it spooks people more because it feels like the real thing.
If you dare, you could add a giant spider or two... perhaps right above the doorway as people are walking into the kitchen?
How to Make Halloween Decorations Out of Household Items
For those of you who are brave enough to DIY your decorations, here's a selection of projects for you to take on. Using mostly paper, candles, and glue, you can source your supplies from items you might already have in your home!
Vellum hanging or table lanterns –
These gothic lanterns will add a mysterious glow to your decorating ideas this season. If you decide to do it yourself, beware!
You're in for a bit of a detailed project, but it'll certainly be worth the work. Paper cutouts paired with vellum and a bit of light is a subtle way to add some Halloween mystery.  
Rats, bats, and black cats –
If you're not a big fan of the "gore galore" approach to Halloween decorating... Adding furry or fanged critters to your kitchen décor will give it a classic feel that adults are nostalgic for, and a lighthearted tone for younger guests.
You can purchase rubber or prop animals or use black paper to make your own bats on a budget as a fun family activity. Purple paper bats are an easy way for you to add some color to your scary decor. And sometimes, adding facial features with googly eyes or glow-in-the-dark paint is a fun family craft!
Spooky paper garland –
Paper garlands are inexpensive trimmings that quickly cover a large area of a room at once. You can either purchase them online or at a local retailer or use an online tutorial to craft your own.
If you're making one yourself, use a hot glue gun to fasten your paper securely to the string or rope you're hanging them from.
How to Hang Halloween Lights Indoors
Lighting can be used to help set the mood for your party. Will it be a fun and bright Halloween night or will the air of eerie enchantment fill the evening?
If you're looking to make your party glow, you can use black lights around the house or in certain rooms. To give the best effect, pair this with plenty of white or neon décor, or purchase materials and items that are specifically made to glow under a black light. For black lights, setting up the lighting is as simple as switching out a few lightbulbs in your overhead lights at home.
When it comes to string lights, it depends on your level of comfort with making small holes in your wall... 
Pushpins are an old (and reliable) trick for hanging string lights across a doorway and along windowsills. If you prefer to avoid tiny holes in your wall, command hooks are also a trusty solution for this.
If you're looking to keep things on the kid-friendly side this Halloween, there are plenty of playful indoor party light options. Orange with accents of purple and/ or green is a classic color combination you can never go wrong with.
Some other fun options for string lights include skulls, eyeballs, and spiders.
And if you're even braver; strobe lights, faux flame lights, color-changing lights, and light-up props can be used to create a more interactive night for your guests.
Incorporating tapered candles into your lighting will give your party an intimate and authentic feel, but if you're worried about the hazards, mishaps, or mess of wax candles, you can use battery-powered tea lights or flicker candles to create the same effect.
How to Make Your Party Feel like Halloween with Black Carpet Runners
Give your guests the VIP treatment and roll out the black carpet this Halloween! Black carpet runners can be used indoors or outdoors to define the designated party area in your home, highlight pathways, and utilize untapped space to fully tie in your décor.
Use a carpet runner to line your front walkway or foyer to create the mood as soon as your guests arrive and welcome partygoers with sophistication and charm.
Place a black carpet runner in front of food tables and offer your guests a comfortable place to gather while they eat, drink, mingle, and rave about the haunting atmosphere you've created.
Lay black carpet runners down hallways that lead to other part areas or rooms your guests will need to find easily, like the restroom or kitchen.
Use a black carpet runner on your patio or other outdoor hard floor surfaces to help define extending areas of your event and make things easier to navigate and more comfortable for your guests.
When choosing a carpet runner to help complement the ominous nature of a Halloween night, be sure to select one that has a durable surface and a sturdy backing that can stand up to heavy foot traffic.
House Home & More black carpet runners are made of high-quality, lightweight materials that are suitable for indoor or outdoor use. They feature UV protection, are professionally bound on all edges to prevent fraying and provide a finished look, and can be easily rolled up and stored for future events.
Pro Tip: Black carpet runners make the perfect aisle runners for Halloween and gothic-themed weddings.
Decorating with Pumpkins
If you're not a fan of the messy, goopy process of carving pumpkins, not to worry! You can still bring in the pumpkin atmosphere, without the mess. 
Designer mini pumpkins
Designer pumpkins are all the spooky rage right now and it's not uncommon for a set of 3 to cost around $70. If these premade fabulous fall trimmings are a bit out of your budget, you can purchase plain paper mache pumpkins and paint them yourself.
Stripes, harlequin, chevron, and polka dots are among the chicest patterns used this season. Black, white, and orange are traditional colors that offer a sophisticated tone to your décor. But you can also tie in touches of deep purple and lime green if you're feeling feisty this season.
This DIY crafting session is also a fun way to spend time with your family and a great alternative to the mess of carving pumpkins.
Real pumpkins
Using real pumpkins or gourds in your décor will give your event a natural and warm appeal. These festive fruits are also an inexpensive way to add subtle but classic accents to any room. They come in a variety of shapes, sizes, and colors to complement your party's unique look.
Carving jack-o-lanterns to display in your décor adds a traditional and personal touch that is guaranteed to give your guests something to talk about.
This is another fun-filled family project that can be done a day or two ahead of the party. Showcase your family's creative skills as part of the celebration!
The G-hostess With the Mostess
It's undeniable that Halloween has become one of the most popularly celebrated holidays in the country. In fact, it's estimated that just over $10 billion will be spent nationwide this year on candy, costumes, decorations, and all the bewitching accouterment that the holiday entails.
Hosting a party will definitely contribute to the total money spent on holiday fun this season, but that doesn't mean it has to put a massive dent in your wallet. There are endless DIY and inexpensive options at your disposal.
The most important aspect of your decorations is that they represent your spirit along with the Halloween spirit.
Whether your décor is mainly comprised of handmade decorations or one-of-a-kind embellishments purchased from an upscale retailer, staying true to your unique personality is all you need to design a Halloween party to die for.