Don't Throw Out That Throw Rug! We've Got 10 Brilliant Ideas for Re-purposing Your Old Rugs
Posted by Patricia Colomy on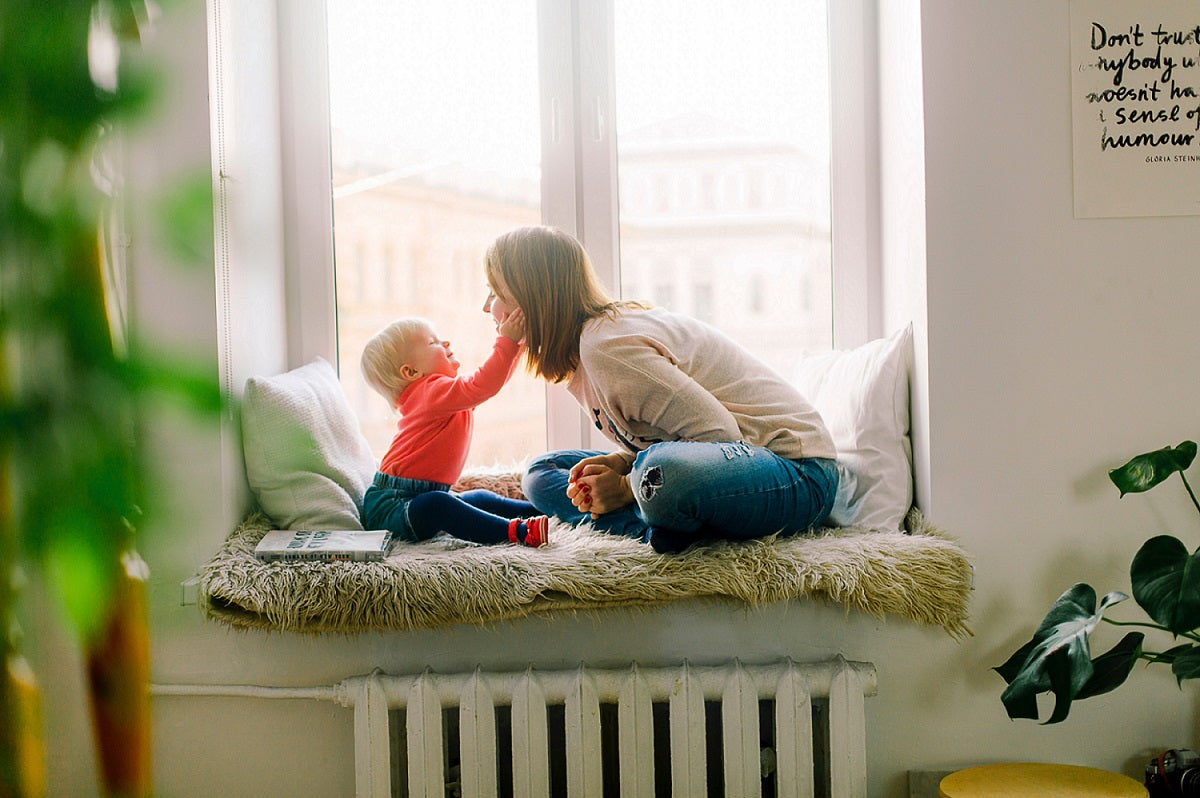 Bringing a fresh interior design look to your home can be simultaneously thrilling and a little sad. Incorporating new colors, furniture, floors and accents often means getting rid of items that hold sentimental value. Yes, it's true, we must get rid of the old to make room for the new. Or do we?
If you're planning a room revamp and have a charming rug you'd hate to toss, don't! Well, at least not until you've finished reading this article.
Rugs are often the focal point or conversation piece of a room. They're one of those items that people gather around and fill with memories. Remember when your mother-in-law spilled her wine on your rug because she jumped with excitement at your toddler's first steps? Remember when your family dog was just a puppy and he chewed the edges of your new rug because, in his puppy heart, everything was a special toy just for him? It can be hard to part with these memories when the time calls for new design.
Luckily, there are plenty of other decorative and practical uses for your adored rug. We've compiled a list of our all-star recommendations just for you. Let's cut a rug!
Fabulous Refashions
1. Use your rug to reupholster another piece of furniture, like a small chair, ottoman or even a headboard. You can also make quirky toss pillows and poufs to complement your new décor. Pinterest and similar sites are filled with DIY tips and tricks to refurbish your rugs into other useful or ornamental items.
2. Have a plain solid colored rug that's doing nothing to pep up your place? Rather than replacing it with a newer, more exciting model, consider a DIY masterpiece instead. Paint or draw a pattern on a plain rug to suit your evolved taste or new home design. This can be as easy as using a premade stencil and a sharpie or as involved as creating your own unique stencil and multi-layered paint. Need a little inspiration? Check out this ultimate DIY success by Mountain Modern Life.
Around the House Projects
3. No-longer-needed rugs can be used to make home improvement projects more comfortable. Use them to cushion your knees while gardening, laying new pavers or stones and during plumbing projects. You can also use them in the garage to keep your feet and back comfortable while doing maintenance work on your car. Plus, they can help protect the garage floor from grease and oil.
4. Speaking of the garage, if you (or your kids) tend to bump the car doors against the garage walls when getting in and out of the car, strips of carpet can save you from future accidental dings. Simply cut an old rug into two strips and line one strip along each wall to help cushion the impact. Thick, plushy or shag rugs are particularly helpful for this purpose.
I personally adore this tip! I have a one car garage and a small SUV, so it's tight quarters for me.
Hostess with the Mostest Coasters!
5. Cut your old rugs into small circles or squares (or any other interesting shape you want) to set under your drinking glasses. Carpet coasters are great for absorbing condensation and keep your furniture lovely longer. Plus, they'll be a zany conversation topic at your home make-over soiree!
6. If you're anything like me, reorganizing the living room or bedroom furniture once (sometimes twice) a year rejuvenates your soul and keeps your home from feeling drab. Cut an old rug into large coasters to help slide heavy furniture and save your muscles next time. If your rug has a nonstick or abrasive backing, be sure to place the coaster carpet-side down.
Perks for the Pets in Your Home
Pet owners will do anything to keep their furry friends happy and comfy. I can attest. Luckily, there are plenty of uses for old rugs when it comes to our pets.
7. If you're a cat owner, use your old rug to create a one of a kind scratching post for your feline friend. All you need is a wood base, a 2 x 4 for the post, a few screws and some rope. Simply cover the wood base with your carpet and staple it in place. Screw the 2 x 4 into the wood base and wrap the rope around it for fun scratching time! If you're not too keen on rope, you can always cover the 2 x 4 in the rug material, as well.
8. For all you pooch people, using your rug to line the inside of your puppy pal's kennel or dog house will create a snuggly comfy place just for them. Chances are, they've already spent an immeasurable amount of time lounging on said rug, so it's only natural that it becomes theirs in the end.
9. Placing a rug or piece of a rug under your pet's food and water bowl is a great way to help keep your floors clean – and dry. Plus, it helps create a nonslip surface, so your pets can relax and enjoy their food and water in comfort.
Perks for Pets without a Home
10. If you can't reuse it or refashion it, donate it! This is, by far, our favorite rug recycling tip at House Home & More! Donating your old rugs and carpets to animal shelters is a wonderful way to make a better life for pets on the lookout for a permanent human.
Shelters use donated carpets and rugs to line kennels for comfort and warmth, to keep animals from slipping on tile floors, and to offer stability during physical therapy and training sessions. Plus, donating supplies to an animal rescue frees up other funds for the shelter to put toward medical expenses.
For most of us, interior design is much more than a superficial display of status. How we chose to decorate our home is often a representation of our lives and relationships, and it grows and changes with our experiences and families.
Our furniture, accents and artwork are filled with love and tell our story - making them difficult to part with. Finding ways to re-purpose our outdated items can keep that love around a little longer, or in some cases, pass it down to someone else. And there is always love to be squeezed out of a cherished rug!