Creating a Magical Pathway: Aisle Runner for Outdoor Wedding Ceremonies
Posted by Savannah Phillips on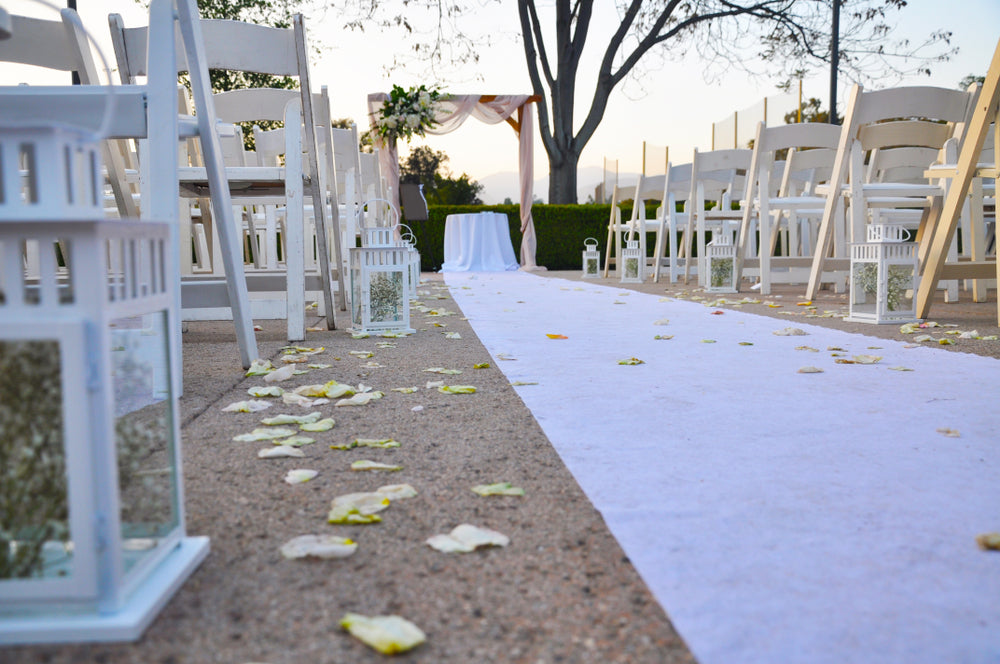 Statistics by Zippia estimate that about 2.24 million weddings are likely to happen in the United States throughout 2023. That's about 6,000 weddings held every day. With that many weddings happening each day in the US, it is safe to say there aren't always enough indoor venues available. Plus, many would rather not have an indoor wedding.
For this reason, couples are taking their weddings to the great outdoors. Outdoor weddings often require fewer decorations than indoor weddings because you are already surrounded by beautiful scenery. Your outdoor venue is the ideal backdrop for a picturesque wedding. All you will need are some chairs, flowers, and an aisle runner. 
This article is here to show you how to create a magical moment for your wedding guests and party using an aisle runner for your outdoor wedding ceremony.
What Is an Aisle Runner?
Think of an aisle runner as a long, well-made piece of material laid down along the middle aisle of your wedding ceremony for the bride and wedding party to walk down. Aisle runners do more than help the bride find her way to the altar. They also add tremendously to the aesthetic value of an outdoor wedding venue. The aisle runner can prove to be the centerpiece of any ceremony. 
The right aisle runner creates a beautiful atmosphere for any outdoor wedding scene. And while a white aisle runner is perhaps the most common kind used by couples, others may opt for colors that match or complement the venue's greenery or the color scheme of the wedding.
Why Should You Use an Aisle Runner for Your Outdoor Wedding Ceremony?
Here are a few reasons to consider using an aisle runner for your outdoor wedding venue.
An Aisle Runner Adds to the Aesthetic
Whether you are the bride or groom or the wedding or event planner, you want to ensure the venue is decorated using your chosen theme and color scheme. There are no set rules for aisle runners, so the couple can get creative regarding the runner's fabric, color, and pattern.  
An aisle runner is a good way to draw attention to the space and the altar and creates the focal point and clearly marked path in which the wedding party and bride walk during the processional.  
Protects a Wedding Dress From Dirt and Damage
The wedding dress is one of the most important aspects of any wedding, and it makes sense to do everything you can to protect it from damage. An aisle runner can help you do just that.
An aisle runner protects the underside of the wedding dress and helps the bride avoid dragging her delicate and stunning gown across the grass, gravel, or sand at the outdoor venue. A properly installed aisle runner appropriate for the environment can even make the wedding feel more complete and put together. A runner can also make it easier for people to walk down the aisle if the ground is soft or uneven.
If you have a concrete floor at your outdoor venue, check out our article on attaching an aisle runner to a hard surface at your event.
Adds Comfort to an Outdoor Wedding Venue
While weddings are usually beautiful and create magical experiences for couples and guests alike, they can be very stressful to plan and pull off successfully. This is why making the experience as comfortable as possible is important.
A wedding aisle runner can make walking on rough, uneven terrain easier and more comfortable. Aisle runners typically prevent guests from slipping and falling by providing walkable traction and stability when properly installed. It is also a good cover for any worn-out walkways or patchy grass that may be in the area. This can be especially helpful for guests in heels that could sink into the terrain.
How to Choose the Best Aisle Runner for Your Outdoor Wedding Ceremony
The first thing you must understand about choosing an aisle runner for your outdoor wedding ceremony is that not all are built equal. Plus, not every material works for every venue.
The Material of the Aisle Runner
Most aisle runners are made with polyester, burlap, or turf. Polyester aisle runners typically prove to be more long-lasting and non-slip, reducing the risk of the wedding party slipping or falling. Burlap is classic and is often used due to its durability. Turf is UV-protected, weather and fade-resistant, durable, and lightweight. 
Turf
Outdoor artificial turf runner made with a lightweight marine backing is great for an outdoor wedding venue and provides a smooth surface to walk on. The stakes you use to secure the runner to the ground are low-profile, and the corners are reinforced and grommeted, making it easy to stake down. 
Polyolefin
Polyolefin is a type of polymer material, with the most common being polypropylene and polyethylene. This material often offers better flexibility and stretch. A high-quality polyolefin indoor/outdoor carpet with a rubber marine backing makes the perfect aisle runner for an outdoor wedding. 
It has a low-pile height, making it easy to walk on, is finished on all edges so there is no fraying on your big day, is UV-protected, weather and fade-resistant, and is durable without being too heavy. 
Aisle Runner Size
The size of the aisle runner for your outdoor wedding ceremony should match the width of the aisle and be appropriate for the space it will be used in. Also, you don't want to end up with an oversized aisle runner that runs too long and wide, which becomes a tripping hazard for your guests. 
Measure the length and width of your aisle and use those dimensions when purchasing an aisle runner. Typically, the width is around three to four feet. You should have space left between the runner and the seating in the ceremony. 
The Color of the Aisle Runner
The color and design of your aisle runner should reflect the personality and style of the couple while also complementing or contrasting the colors of the outdoor wedding venue.
You can choose an aisle runner color that matches the wedding colors and complements your flowers and decorations. Or, you can choose the color of your aisle runner beforehand and build the color and style of everything else around the aisle runner.
Many couples opt for traditional white or a more neutral color for their aisle runner, but some may want to go bold and go with a red carpet aisle runner for a more glamorous aesthetic.
Things to Consider When Setting Up Your Aisle Runner for Your Outdoor Wedding Ceremony
To ensure you are ready to use an aisle runner for your outdoor wedding ceremony, here are a few things to consider when setting up.
Securing Your Aisle Runner to the Ground
When installing a light weight aisle runner for your outdoor wedding ceremony, you can ensure it is secured using stakes, pins, tape, weights, or flower pots. House, Home and More runners made from Polyolefin, actual carpet, are heavy enough to weigh themselves down in normal conditions.
The turf aisle runners from House Home & More come with reinforced grommet corners, making it easy to stake the aisle runner to the ground. Plus, every turf aisle runner with a length over 10 feet has additional grommets installed every 7 to 10 feet on each long side.
Install Your Aisle Runner Long Before the Ceremony
Installing your aisle runner way before the ceremony begins is a good idea to avoid delays. This ensures the wedding aisle runner is properly installed and no one trips over any unsecured section. Most venues will ensure the aisle runner is properly installed before the couple even makes it to the venue. 
After the installation of the aisle runner, make sure it is smooth and straight with no wrinkles or folds.
Let the Bride and Groom Practice Walking Down the Aisle
Let the bridal party walk on the aisle runner ahead of the ceremony to get a feel for the material and learn how to walk on it without an issue. This can be done during rehearsal or on the day of, before the guests are seated. This is especially helpful if the bridal party will be wearing heels. Take slow, confident steps, one step at a time. Nobody wants to trip walking down the aisle.
Clean the Aisle Runner for Outdoor Wedding After the Ceremony
When all the vows have been said and everyone is off to the reception, you want to ensure someone cleans and rolls up the wedding runner, carefully removing all the flower petals that may have been used. This protects it and helps ensure it does not sustain any permanent stains. High-quality aisle runners can be used for future events when kept in good condition. 
Weddings can be stressful to plan and organize, but they can also be a fun and exciting experience when everything comes together nicely. An aisle runner can help with everything from the color scheme to setting the atmosphere for your outdoor ceremony and can help set the stage for your upcoming nuptials. 
Savannah Phillips is an NCIDQ certified Interior Designer with a Bachelors of Science in Interior Design from Illinois State University. She is skilled in Space Planning, Furniture Layouts, Material and Finish Selection and FF&E Procurement.