Long Runner Rugs: 5 Tips for Choosing the Right Pattern and Color Palette
Posted by Savannah Phillips on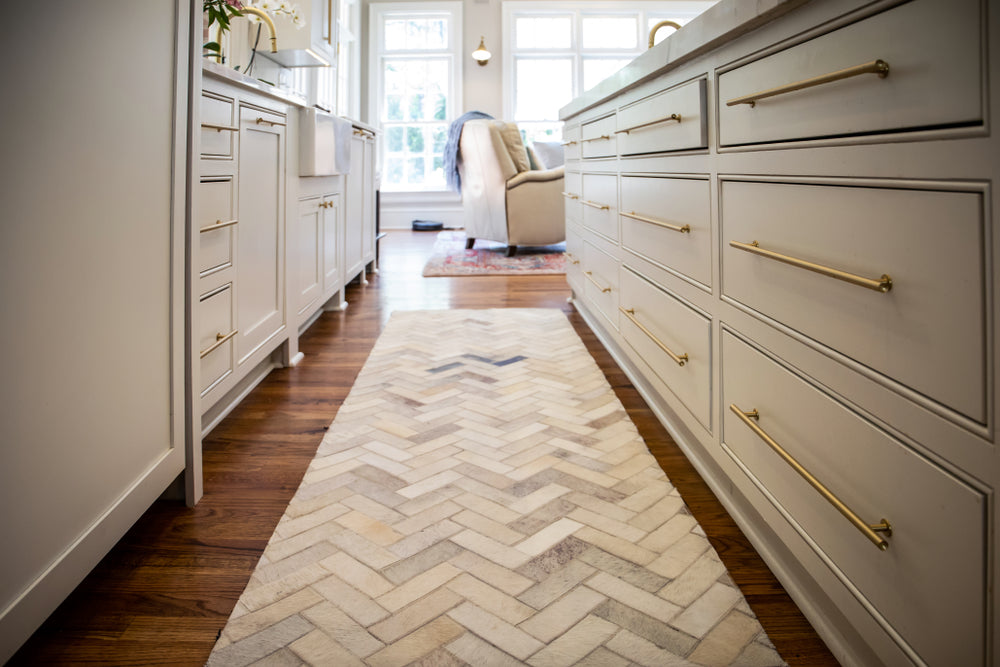 You might want to add long runner rugs to your home for several reasons. They can easily add texture and depth to a space that is otherwise drab and bare. For example, an empty hallway can be transformed with the addition of a long runner. Long runners can also add some warmth and cushioning for underfoot in a more highly trafficked home area such as the kitchen or front entrance. 
Choosing long runner rugs with the right pattern and color palette can become challenging, especially if you already have a delicate home decoration and style.
In this article, you will learn some of the best ways to add style, comfort, and warmth to your home using a carpet runner. 
You'll learn five tips for choosing the right pattern and color palette for your long runner rugs.
5 Tips for Choosing the Best Pattern and Color Palette 
Compiled below, you will find five effective and proven tips to ensure you have the appropriate knowledge when adding long runner rugs to your home. These tips are from first-hand experience and expert advice from various sources.
Tip #1: Consider the Size and Shape of Your Space
To begin we will start out strong with objectively the most important tip of them all. You need to consider the size of your space before deciding on the size and pattern of your runner.
Choose a long runner rug that is too small for the space, and you risk making the space look uninviting. Choose a runner rug that is too big, and the area might begin to feel clustered and lacking in space. The right size of carpet runner can bring warmth and balance while adding the perfect finishing touch you're looking for. 
To start, you need to measure the area and determine how much space you have available for a rug. The goal is to ensure that there is some room left on either side of the rug after it has been laid out so that the space does not feel cramped or crowded.
It is a good idea to avoid placing the rug close to the walls as this can make the room look smaller and, in some cases, less inviting. Placing your runner away from the wall also lets the rug sit flat and avoids bunching, which could otherwise become a tripping hazard. 
A good rule of thumb is to have about 4 to 5 inches of flooring visible on all sides of your long runner rug, almost like a margin between the rug and the rest of the space. It is good practice to place the rug in a way that sits flush with the doorway so that you and your guests step right onto it.
However, you can shift the long runner rug a couple of feet away from the door to show off your hardwood floors and give the space a breathable atmosphere of its own.
You may need more than one hallway runner to properly accentuate the space if you have a long hallway. In such cases, you can experiment with alternating long runner rug patterns and colors.
Sometimes, finding a long runner rug that comes in the size you need can be hard. At House Home & More, we pride ourselves on being able to cater to the needs of our customers. This includes providing you with rug runners that match the size of your space.
Tip #2: Choose Patterns That Suit Your Style and Personality
Long runner rugs come in so many different patterns and styles that it shouldn't be too hard to find the one that matches your aesthetic. Common patterns used for rug runners include geometric shapes, solid colors, stripes, floral motifs, and animal prints.
Four things to consider when choosing a long runner to fill your space are your personal style, personality, mood, and what kind of atmosphere you want to create.
For instance, if the vibe you are going for is casual, warm, and cozy, you can't go wrong with a country-style or rustic long runner rug made with natural fibers and skid-resistant material.
However, if your style is more of a chic and modern look, look no further than a minimalist hallway runner with sleek lines and bold colors. You can even choose solid-colored rugs like a skid-resistant navy blue long runner rug.
If you are going for a classic atmosphere, pick a traditional or oriental style long runner rug with hand-crafted intricate details and deep, bold colors like mahogany brown.
Tip #3: Pick a Color Palette That either Matches or Contrasts With Your Existing Décor
Colors! Colors! Colors!
Several books have been written about colors and color theories. Plus there are websites dedicated to helping you choose the right colors for your home. Though deciding the color of your runner may seem easy, once you get down to the science, it can be a daunting task! Luckily there are a ton of resources out there to help you select the perfect rug color.
That being said, picking the right color for your long runner rug can be the difference between an inviting space and a visually repelling one.
The two ways to choose color is by choosing one that either complements the current color scheme of your intended space or contrasts it. So, it doesn't matter if you need a long runner rug for your hallways, patio, or outdoor space. Pick either a contrasting or a harmonizing color, and you'll be set.
One website that works great for picking colors that work well together is Coolors. This website can help you find the best combination of colors depending on the original color of your space.
You can go with analogous colors—colors next to each other on the color wheel—as these colors usually work well together. Some examples of these types of colors include yellow, yellow-green and green, or purple, blue-purple and blue. In simpler terms, they are a corner of the color wheel. These sets can either include three or five colors.
You can also pick complementary colors, which are colors found on opposite sides of the color wheel. These colors include red and green, blue and orange, green and magenta, and more.
Lastly, if you don't want to deal with multiple color schemes, you can simply use neutral colors. A neutral palette includes black, white, gray, beige, cream, and brown. These colors work in almost any scenery and can create a flexible backdrop for other colors in your space to pop.
When choosing the best color for your long runner rug, it is good to let your imagination do its thing while adhering to some of the tips described above.
Tip #4: Always Consider the Function and Purpose of Your Long Runner Rug
Of course, it's always a good idea to add some style and color to your house using long runner rugs, as they can also greatly improve the livability of your home. Choose a carpet runner that will prove functional in your space.
For instance, if you want a long runner rug that can protect your floor from wear and tear, stains, and spills, choose one that is stain-resistant, durable, and easy to clean.
If comfort is a major factor in choosing a carpet runner for your space, choose one that is soft, cozy, and plush.
Long runner rugs can also help reduce the echo and noise in a space, which is ideal if you have active children and pets.  
The best materials for long runner rugs include wool, cotton, polyester, polypropylene, and nylon. Rugs made of cotton and wool are typically more expensive than those made from other materials.
Tip #5: Have Fun and Experiment
A space isn't truly yours if you don't feel comfortable and happy in it. This is where your creativity and ability to experiment and have fun comes in. You are not obligated to stick to a particular style or color palette rule. What matters most is that you love the combination of the long runner rug you chose and the intended space's color scheme.
You can decide to mix and match different colors and patterns that are way out of the limits of the color and space theories. Ultimately this is your space and if you love it that is what counts.
The best part of using a runner rug is changing it whenever you like since it is not a permanent fixture. You can always switch where they are placed around your home if necessary.
Hopefully the tips discussed in this blog post have helped you learn some things to consider when choosing a long runner rug for your space, indoor, outdoor, patio, or event space.
If you want inspiration or ideas for the best long runner rugs for your space, check out our website today!
We have a wide range of rug runners in various sizes, styles, materials, and prices that will go well with your home décor while also standing up to the foot traffic in your entryway, hallway, or kitchen. 
Have fun choosing your next long runner rug!
Savannah Phillips is an NCIDQ certified Interior Designer with a Bachelors of Science in Interior Design from Illinois State University. She is skilled in Space Planning, Furniture Layouts, Material and Finish Selection and FF&E Procurement.