The Ultimate Guide to Making Your Stairs Safer, Quieter, and Less Slippery
Posted by Gabrielle Alyse on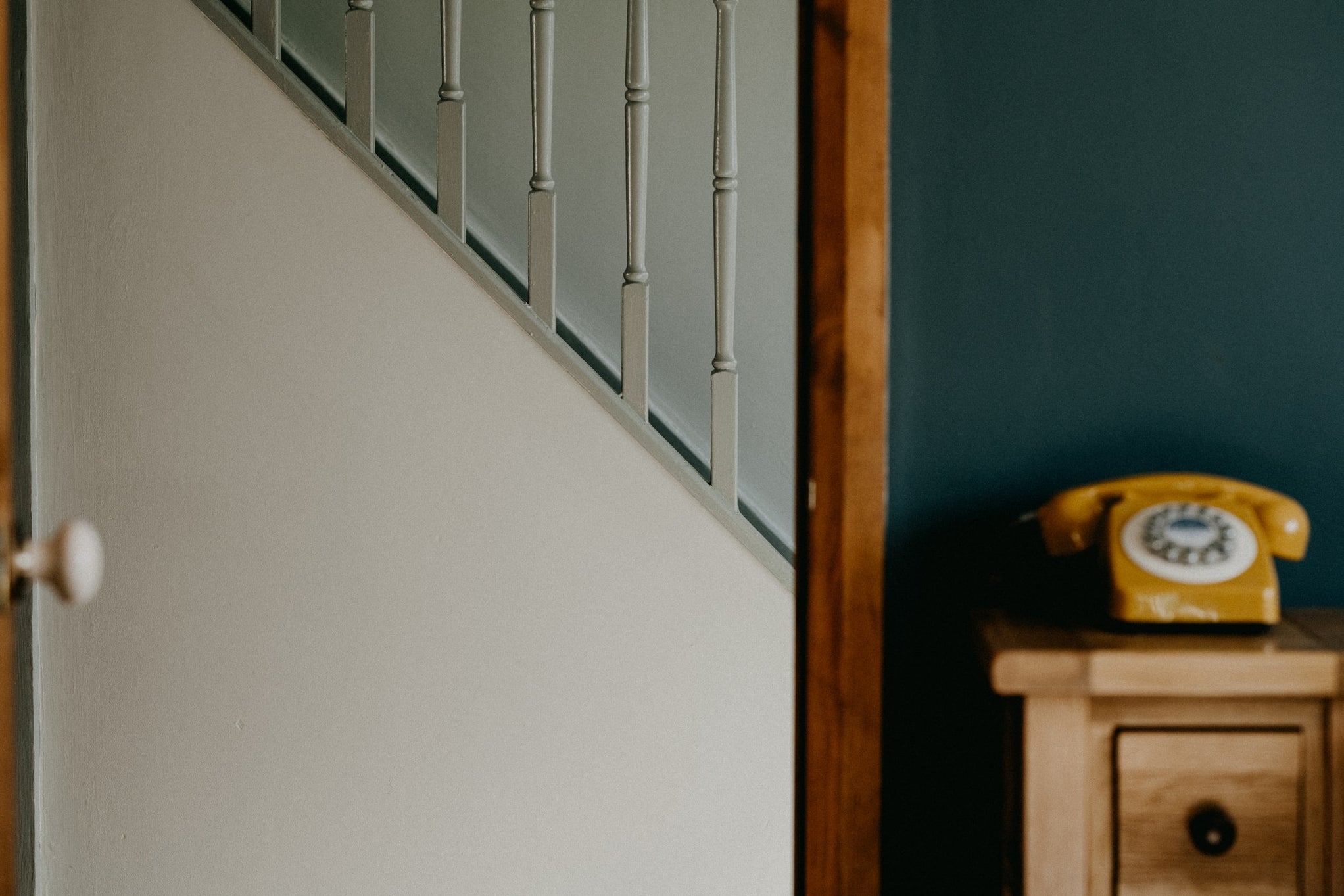 You have a flight of stairs before you, and something catches your eye.
They have a contemporary look with a smooth gloss finish. As you get closer, you're pleased to see carpet partially covering each step. Any hesitation about slipping leaves your mind. As you take the first steps, the footing feels secure, the grip firm and not too soft. And the pattern upon each tread adds color and interest.
How do you achieve such a thing in your own home? You need the right kind of quality carpet stair treads, my friend!
Improving the Surfaces of Stairs
Covering wooden stairs with wall-to-wall carpet has long been the go-to solution when it feels unsafe going up or down the stairs. The risk of slipping and then falling down a flight of stairs feels scary, and it can be dangerous. Carpet becomes the way to give a better grip on the stairs, and a comforting sense of traction for humans and dogs alike.
Many people choose to avoid the modern trend of concrete stairs for this reason. Or tile, or laminate, and so on.
But there's one big downside of using carpet to make walking on your stairs feel safer. Keeping carpeted stairs clean is a pain. Carting the vacuum up or down as you move to clean the next step, wrestling with the hose in an effort to get the dirt out of that back corner... it's enough to make you wish you'd never installed the carpet in the first place. (Or if it was already there, that you'd remodeled and disposed of the carpet when you moved in).
How to Make Your Wooden Stairs Safer
This brings us back to the wonderful solution I mentioned earlier - carpet stair treads. Just enough cushion and grip to help you feel like you have the secure traction you love about carpet, without the hassle.
Everyone in your household will appreciate the added stability, especially older adults. House Home & More Carpet Stair Treads add comfort to wood, tile, and other hard stair surfaces; and help to protect them from damage. They also provide soundproofing that softens noise throughout your home, which is perfect for lively children, dogs, and other pets.
Using carpet stair treads helps you get the best of both worlds, and they're an affordable way to remodel a staircase.
Why Carpet Stair Treads are Better than Carpet Runners for Your Stairs
Some people choose a runner to carpet the center of a staircase, to give extra traction (or just decoration) in the area that gets the most foot traffic. This can be an eye-pleasing alternative to wall-to-wall carpet covering your stairs. But if the stairs in my home had a carpet runner, I'd be dreading that same old dance with the vacuum hose each time I wanted to clean those stairs.
A quick sidenote: if you're wanting to use a carpet runner on your stairs as an alternative to carpet stair treads or wall-to-wall carpet, you'll need a very specific type of carpet runner. One that's flexible enough to mold to the folds of your staircase, and that will reliably stay in place. Unfortunately, House Home & More doesn't sell this kind of carpet runner.
But if you're looking for a more stiff, slip resistant carpet runner that you can use in the hallway leading to your stairs, or a long and narrow stair landing, we do sell that kind of Indoor Carpet Runner.
The best part about carpet stair treads is you can add them to your stairs when you want them, and you can easily move them out of the way when it's cleaning time. You can have an elegant, inviting flight of stairs in your own home.
Do Carpet Stair Treads Attach to Steps?
The short answer is some types do, and some of them don't.
It's not necessary for your carpet stair treads to be attached to your steps, but if you have pets or senior citizens in your family, you'll likely want the extra security that attaching the treads brings.
We recommend using Attachable Stair Treads for the best possible method of attaching the carpet treads to your steps.
How Do I Stop my Stair Tread from Slipping?
Some people wonder if stair treads should be glued on, or even if they should be stapled to the steps to keep them from moving. And if you look hard enough, there's probably a YouTube tutorial for how to safely execute both of those methods.
But that's a pretty permanent installation route, and not something we recommend doing with our stair treads.
You might prefer to skip that type of installation in favor of stair treads you can easily remove for cleaning. Also, you might want to give yourself the option to switch out the color or pattern of your stair treads depending on the season!
Not to mention you could skip the tedious process of going to the store and tracking down glue, or double-sided tape, making sure it won't ruin your stairs, all before finally installing the carpet treads on your steps.
It really could be so much easier...
This is where the Attachable Stair Treads and the Adhesive Stair Treads from House Home & More come to the rescue. So what's the difference between all the different types of carpet stair treads, and how are they attached to your steps?
Types of Carpet Stair Treads
Your peace of mind might require extra certainty about the slip-resistant backing that your stair treads come with. You might want stair treads that fold over the protruding edge of the stair a bit, to protect the stairs better.
There are a couple of different attachment methods, so let's walk you through the ins and outs of each type of carpet stair tread you can find here at House Home & More.
Skid Resistant Stair Treads
One of the very first products HH&M made was the Skid Resistant Stair Treads. An important thing about this variety is that they're made with a skid-resistant premium rubber backing.
Slip-resistant doesn't mean the stair tread will never move after you place it on the step. But it does mean you'll have more traction than walking on uncovered stairs with socks or bare feet.
For some people who are worried about using any kind of adhesive material on their steps, the Skid Resistant Stair Treads are great.
Being made with a low-pile carpet helps minimize the risk of slipping while you're walking. The non-slip rubber backing helps to keep the treads in place and creates a safer walking space for your family, guests, and pets.
But remember, these skid-resistant stair treads do not attach to your steps.
Attachable Carpet Stair Treads
The Attachable Stair Treads use a hook-and-loop fastening system to attach to hard surfaces (like wood and tile) and provide a safe, securely carpeted space to walk.
If you're confused about what "hook-and-loop fastening system" means, you might be familiar with this kind of fastening to help close the hood of your winter coat around the collar. Basically, its more well-known name starts with V and ends in -elcro, but that name is trademarked so I won't be officially using it here.
Many people like using this hook-and-loop system because its intentionally low-profile design creates a firm grip with no added bulkiness. This creates a low-profile carpeted surface to walk on, since the treads are made with low-pile carpet.
It feels a little more secure than using double-sided tape since you don't have to worry about any stray dirt that might get between your stair tread and the tape. The fastening system keeps the treads securely in place, but also allows for easy removal and reattachment as needed for cleaning.
Each stair tread comes with (4) adhesive-backed hooked-fiber strips that adhere to your step; and (4) looped-fiber strips sewn into the back of the stair tread, that attach to the hooked-fiber strips. None of these components will be visible from the top of the stair treads.
If this sounds like what you're looking for, let's go shopping for some Attachable Stair Treads from House Home & More! For more information about stair treads, let's continue...
Overstep Attachable Stair Treads
If you want the carpet to fold over the edge of your step (aka the stair nosing), there's a special type of carpet stair tread made just for that purpose. They're also attachable with the hook-and-loop system, and they're called Overstep Attachable Stair Treads.
You might want this kind of stair covering when you're concerned about the finish of your hardwood stairs getting worn down and you want to protect it from the wear and tear that comes with heavy foot traffic. Or maybe it's just a design preference, and you prefer to see a little carpet peaking over the front edge of your steps.
Adhesive Carpet Stair Treads
Adhesive Carpet Stair Treads from House, Home & More work great on a variety of hard surfaces including wood, tile and marble!
These stair treads attach to your steps using pre-attached double-sided tape to help create a safe and slip-resistant surface for you and your family. Each carpet stair tread comes with two strips of double-sided tape, pre-attached to the underside, that adhere to your step.
Once again, these stair treads are made from low-pile carpet. They also feature a skid-resistant rubber backing for added stability. And installation is very simple. Simply remove the clear protective covering from the strips of double-sided tape then place on stairs and press down firmly. 
You should know, the downside with using this type of stair treads is depending on how often you remove them to clean your stairs... you might need to replace the double-sided tape that's on your steps after a while. When too much dust collects on a piece of tape, that stickiness doesn't hold very well anymore. Good thing double-sided tape is affordable and easy to find at your local craft or hardware store.
But maybe this isn't a deal-breaker for you. Perhaps you want something that's a little gentler on your steps than the hook-and-loop fastening system, but still extra secure when you're walking on the treads. In which case, these Adhesive Stair Treads are for you!
FAQs about Carpet Stair Treads
These are some of the most common questions people ask about carpet stair treads and how to use them in your home.
Can You Use Stair Treads on Carpet?
Many people ask about this since they might have wall-to-wall carpet on their stairs that's getting old, or there are stains they might want to cover up.
But please, don't use House Home & More stair treads on top of stairs that are already carpeted. There's not a "sticky", hard surface for the treads to grip onto, so they'll move around quite a bit.
And if you were to try using the attachable treads on top of your steps, the adhesive and the hook-and-loop fastening system will pull up the carpet fibers, ruining the carpet that already exists on your stairs.
Are Carpet Stair Treads Safe for the Surface of Your Steps?
If you use the Skid Resistant Stair Treads in your home, the premium rubber backing is safe to be used on hard surfaces like wood, laminate, and tile. Because there's no adhesive being used, the finish on your stairs is safe from damage.
Our Attachable Stair Treads product attaches to your stairs with adhesive on hook & loop strips. The adhesive may react differently with various types of woods, finishes, etc.  We cannot guarantee how it would affect your particular steps.
This similarly applies to the Adhesive Stair Treads, since they use double-sided tape to stick to your steps.
If you need to remove the Attachable or Adhesive Stair Treads for any reason, we suggest removing them slowly and carefully. When removed, the strips may leave a sticky residue.
One method for removing this residue is using an adhesive remover or coconut oil which can be found at your local hardware store and supermarket. We suggest trying it on a small hidden section of the stairs before using this product on visible areas. 
House Home & More cannot guarantee the use of any products and/or the effects they will have on your steps.
Are Carpet Stair Treads Pet Friendly?
Your pets will appreciate the security of carpet stair treads as much as you do! Walking up and down hard stair surfaces can be a fearful challenge, especially for new puppies, senior dogs, and aging cats.
The soft surface of carpet stair treads will keep their paws cozy while the added traction helps to prevent slipping, allowing them to move confidently.
Increasing your dog's ability to grip the surface of your steps as they walk up or down helps them feel safe. And if your pet displays anxious behaviors like being fine with going up the stairs, but it's nearly impossible to get your dog to go back down... it's likely because the feeling of their paws slipping on your stairs is frightening.
This is why using the Attachable Stair Treads is the best option for your dogs at home, so they feel extra secure. And while you're at it, I'd encourage you to choose a carpet color or design that won't showcase their shedding the way white carpet displays every single hair.
Maybe your dog has become a senior citizen, and you've noticed they're starting to struggle with something as simple as walking down the hallway? Lean on these vet-recommended tips to help your old dog feel safe and comfortable as they age.
Choosing the Best Way to Make Your Stairs Safer
There's quite a lot of details here, and I hope it helped you get oriented to the various types of stair treads available. Whether you're shopping for yourself, or maybe your beloved four-legged friend, stair treads are a beautiful and easy way to make your home safer and more comfortable.
Here's a quick recap for you before you go:
Each type of carpet stair treads offered at HH&M is made with low-pile carpet, which increases safety because you're less likely to trip over this thinner style of carpet. And they're also all made with a premium skid-resistant rubber backing.
Attachable Stair Treads are the best type of carpet stair tread to use when you want to be certain the treads won't slip around when people (or your pets) walk on them. The attachable style also comes in an Overstep variation, which you can use when you want a little extra coverage of your steps.
If you're wanting an adhesive-free stair carpet tread, then Skid-Resistant Stair Treads are your best option. Please be advised, these will slip around a little bit depending on how people are walking down your stairs. So if you have children running down the stairs, or dogs climbing up, you can expect these treads to move around. The premium rubber backing is only resistant to slipping, not slip-proof.