ProductContent
Skid-Resistant Area Rug Laurel Lane – Espresso Brown & Golden Cream
$
39.95
You Save:

$ -39.95

(100%)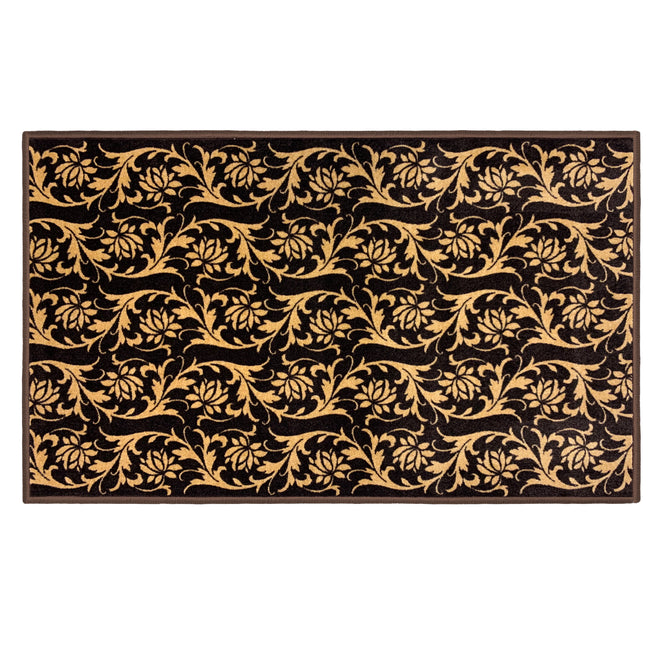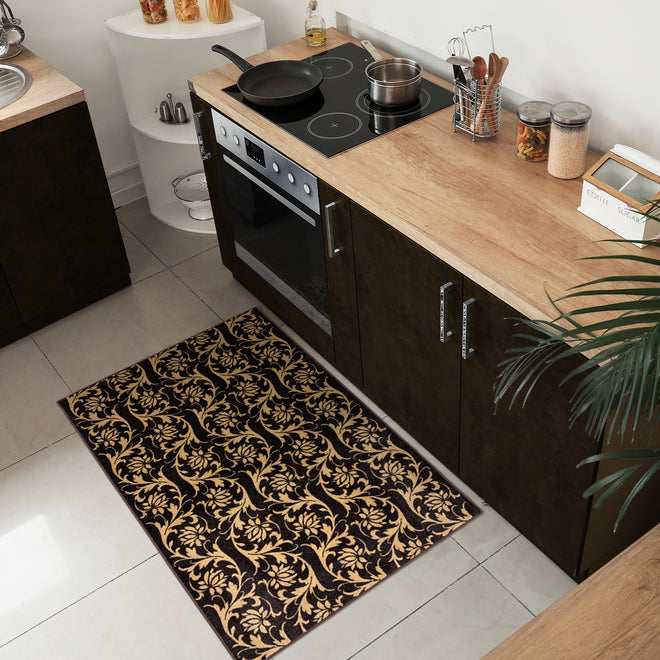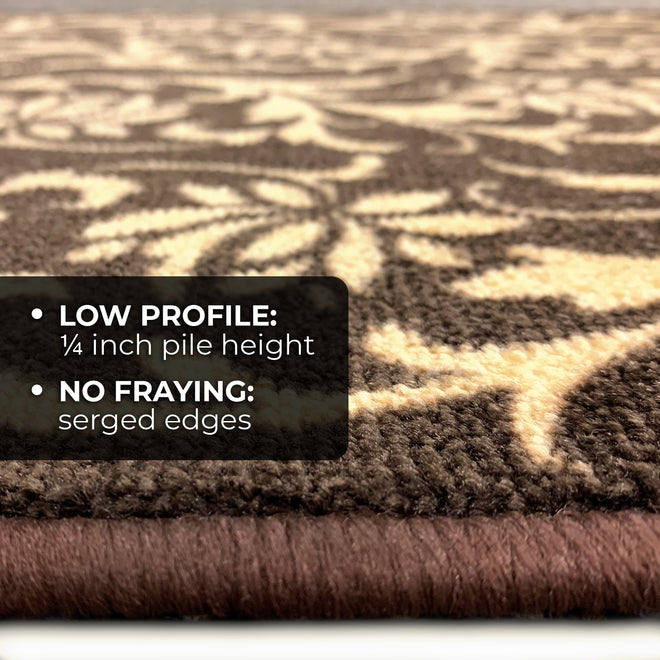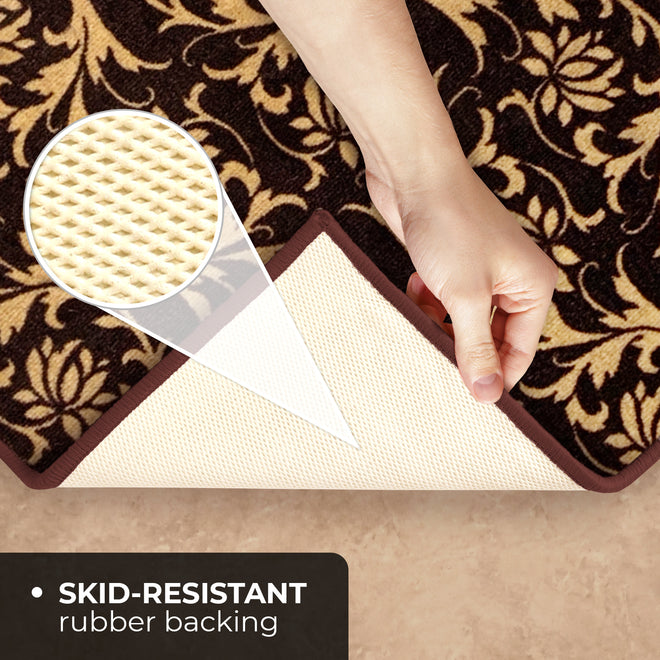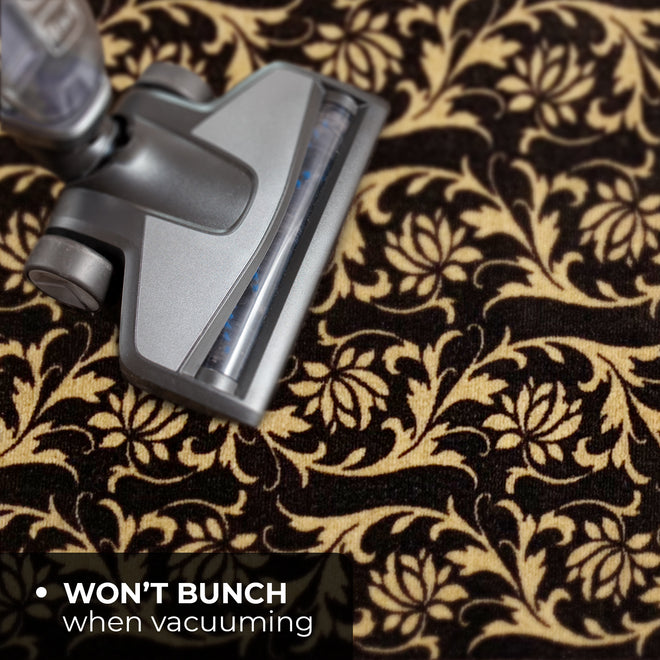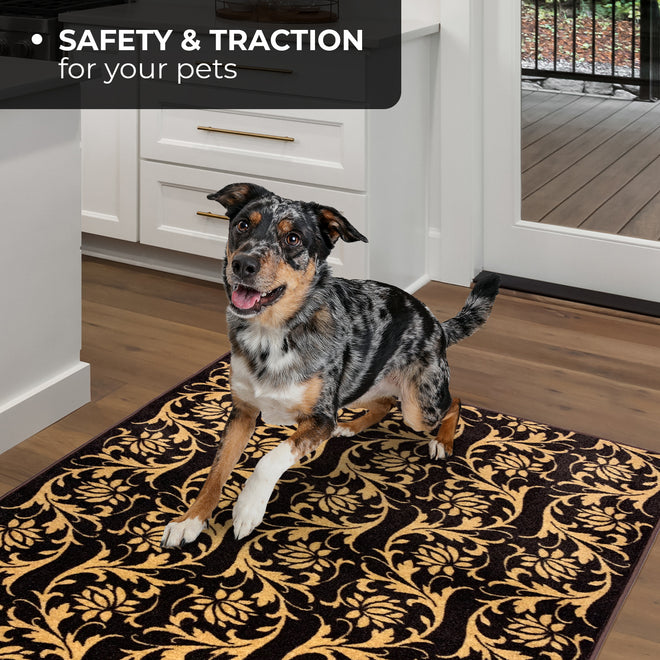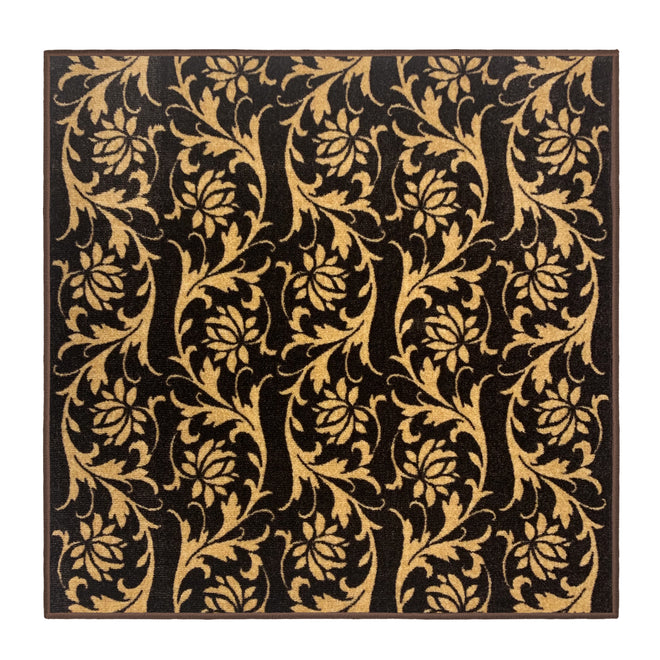 Skid-Resistant Area Rug Laurel Lane – Espresso Brown & Golden Cream
$
39.95
You Save:

$ -39.95

(100%)
Product Description
Description
SKID-RESISTANT - House Home & More Skid-Resistant Area Rugs are made with a premium, non-slip rubber backing for added security
COMFORT AND PURPOSE - Made with high-quality polyester carpet to help resist stains
FINISHED EDGES - Each rug is beautifully bound on all edges to prevent fraying and provide a finished look
THOUGHTFUL DESIGN FEATURES - Low pile-height (approximately ¼ inch) provides added comfort and allows for easy door clearance
EASY TO CLEAN - Won't bunch up when vacuumed and can be spot cleaned
STYLISH DECOR - With golden laurels scrolling through a rich espresso backdrop, this rug delivers endless elegance and opulence; perfect for décor styles that boast the ornate while remaining grounded in neutral palettes, like traditional and baroque styles
There's no need to step lightly on your new carpet area rug from House Home & More! Thanks to its non-slip rubber backing, this rug won't bunch up or shift under your feet. Your household will appreciate the added stability in your living spaces, especially older adults. Our carpet area rugs protect and add comfort to your hard-surface floors, like wood and tile, and they help to reduce noise throughout your home, which is great for energetic children and pets.
How to Choose Area Rugs:
Area rugs are a great way to add softness and a splash of color to your living space. They're a good choice for high-traffic areas like living rooms and entryways, but can also add comfort to other areas like kitchens, bedrooms and bathrooms. The size and color you choose are relative to the size of the room and your personal design intentions.
If you're purchasing a rug for your living room, you generally want a size that extends beyond the immediate area of the furniture placed on top of it. This applies whether you're purchasing a small rug to go under a coffee table or a large rug to go under your entire furniture set.
When placing a rug (or rugs) in your kitchen or bathroom, you typically want to cover standing areas: in front of the sink or stove, just outside the shower or bathtub, etc. For a bedroom rug, strive for a size that extends beyond the sides and foot of the bed without going underneath nightstands.
The size of the rug also depends on how much of your floor you want to showcase and can be adjusted accordingly. There are always general design practices and recommendations, but in the end, these are personal style choices.
When shopping for an area rug, you have the freedom to choose a piece that blends with your current décor or go for an eye-catching conversation starter. As long as you keep a consistent color scheme throughout your design, your space will feel grounded, and any choice will look beautiful.
With golden laurels scrolling through a rich espresso backdrop, this rug delivers endless elegance and opulence. Perfect for décor styles that boast the ornate while remaining grounded in neutral palettes, like traditional and baroque styles.
Are Carpet Area Rugs Pet Friendly?
Your pets will appreciate the security of a new House Home & More area rug as much as you do! Walking on slippery wood or tile floors can be cumbersome and frightening for pets, especially senior dogs and cats. Choosing a rug with a non-slip backing can add traction and help create a more secure setting for them. The soft surface will keep their paws comfy while the added traction allows them to move with confidence.
Our carpet area rugs provide stability and a cozy place for your pets to relax. If you have dogs, cats or other pets, you may want to consider a color or design that won't showcase their shedding.
How to Care for Your Carpet Area Rug:
Our carpet area rugs feature a non-slip rubber backing, which helps to keep them in place while vacuuming, but can become damaged if put into a washing machine. Polyester is a naturally stain-resistant material, but when your rug needs cleaning, we recommend vacuuming to remove surface dirt and spot cleaning areas that need extra care with mild soap and water. Before using any carpet cleaning product, test the product on an unnoticeable area to make sure it does not damage or fade your carpet.
Rug Samples & Color Swatches