ProductContent
Set of 15 Skid-Resistant Carpet Stair Treads – Kaleidoscope Bloom – Autumn Brown
$
119.95
You Save:

$ -119.95

(100%)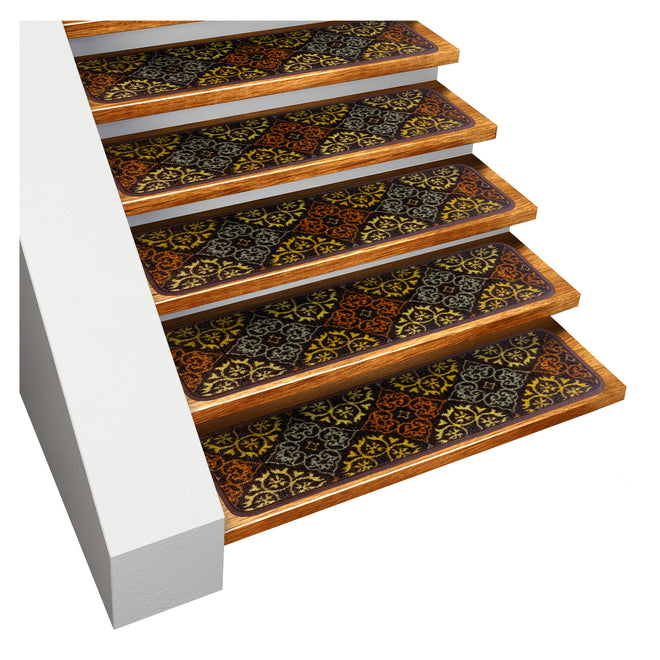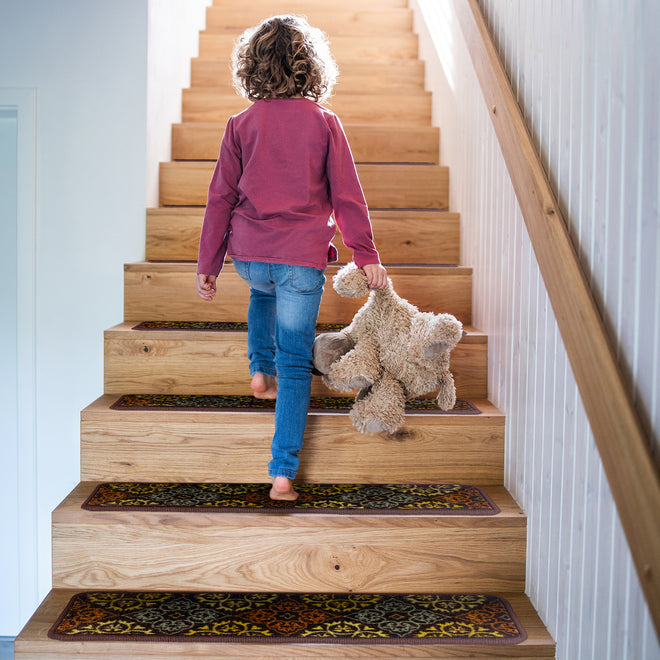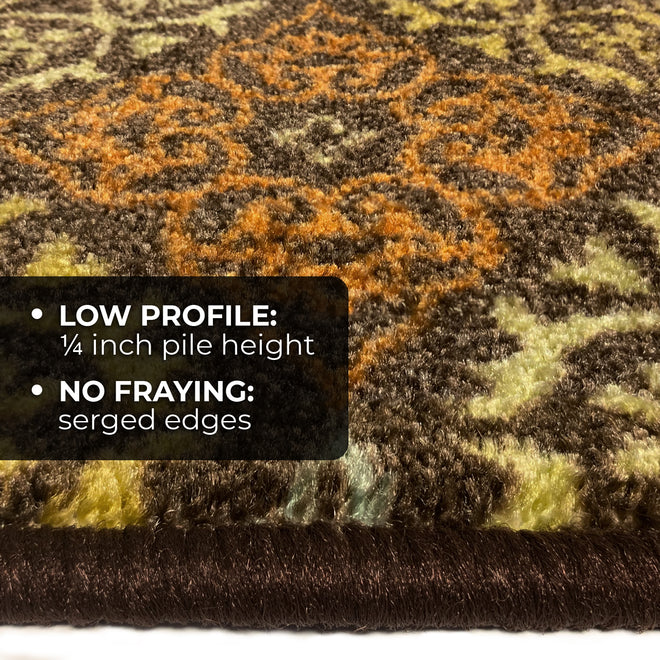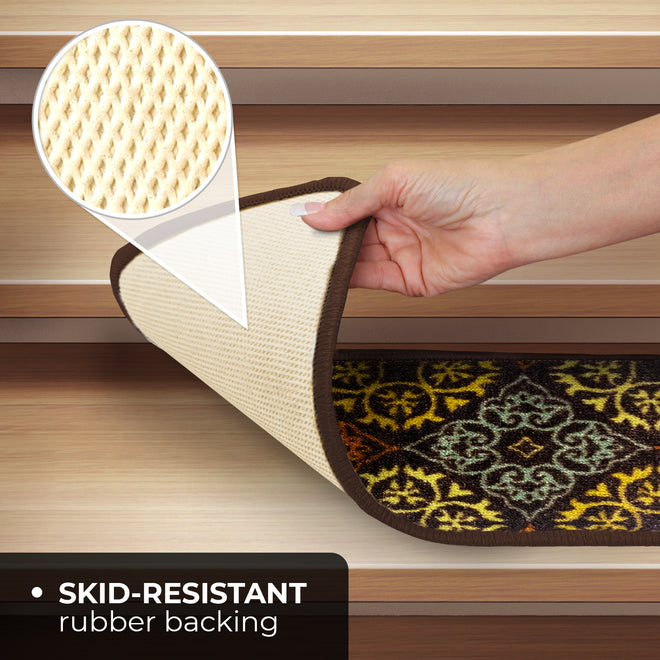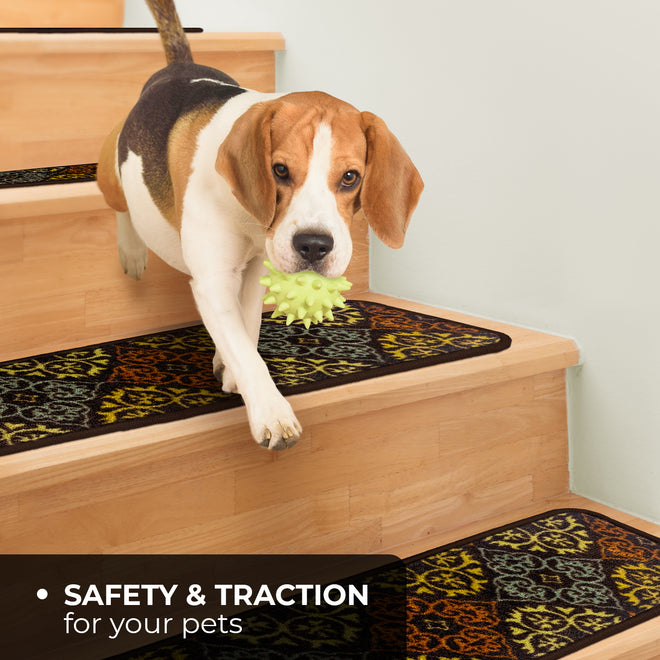 Set of 15 Skid-Resistant Carpet Stair Treads – Kaleidoscope Bloom – Autumn Brown
$
119.95
You Save:

$ -119.95

(100%)
Product Description
Description
SKID-RESISTANT - House Home & More Skid-Resistant Carpet Stair Treads are made with a premium, skid-resistant rubber backing to help create a non-slip surface
SIMPLE INSTALLATION - Skid-resistant stair treads can be placed directly onto most hard stairs to protect the surface and create traction (they do not attach)
COMFORT AND PURPOSE - Made with high-quality polyester carpet to help resist stains and feature a 1/4 inch pile height to provide comfort
FINISHED EDGES - Each stair tread is beautifully serged on all edges to prevent fraying and provide a finished look
EASY TO CLEAN - Can be vacuumed with a handheld vacuum or hose attachment and spot cleaned for extra care - machine washable, but should be air-dried only
STYLISH DECOR - This modern Kaleidoscope Bloom design has fun with color and shape; classic earth tones are pleasantly interrupted by pops of aqua and mild chartreuse while the intricate pattern exemplifies balance- these playful carpet treads will take any staircase from boring to adoring
Skid-resistant carpet stair treads from House Home & More feature a premium non-slip rubber backing to provide your stairs with additional traction. Your household and guests will appreciate the added stability, especially older adults. Our carpet stair treads provide comfort on wood, tile, stone and other hard stair surfaces and help to protect them from damage. They also help soften noise throughout your home, which is ideal for lively children, dogs and other pets.
Do Carpet Stair Treads Attach to Steps?
Our skid-resistant carpet stair treads are placed directly onto your steps. The non-slip rubber backing helps to keep the treads in place and creates a safer walking space for your family, guests and pets.
These skid-resistant stair treads do not attach to your steps. For added security, you can purchase double-sided carpet tape or carpet tacks separately.
Are Carpet Stair Treads Pet Friendly?
Your pets will appreciate the security of new House Home & More carpet stair treads as much as you do! Walking up and down hard stair surfaces can be a fearful challenge for new puppies, senior dogs and aging cats. The soft surface of carpet stair treads will keep their paws cozy while the added traction helps to prevent slipping, allowing them to move with confidence.
Our carpet stair treads provide stability and help to create a safer environment for your entire household, including your pets. If you have pets, consider a carpet color or design that won't showcase their shedding.
How to Care for Your Carpet Stair Treads:
Polyester is a naturally stain-resistant material, but when your skid-resistant Kaleidoscope Bloom treads need cleaning, we recommend vacuuming with a handheld vacuum or hose attachment to remove surface dirt. If using a full-size vacuum, be sure not to go over the edges, as it will lift the tread from the step or floor.
These treads are machine washable, but should be air-dried only. You can also spot clean areas that need extra care with mild soap and water. Before using any carpet cleaning product, test the product on an unnoticeable area to make sure it does not damage or fade your carpet.
Rug Samples & Color Swatches